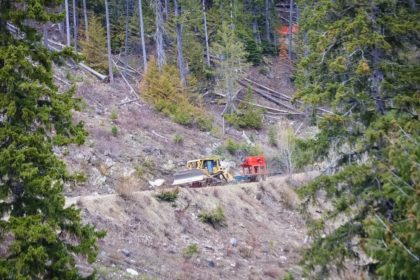 Each season Fernie Alpine Resort strives to make improvements and upgrades to our existing services to ensure that you have the best vacation and recreational experience possible.
As a lot of you know, this summer the Timber Chair has been undergoing a significant makeover. The work that is being done is extensive and time-consuming but will add an extra 25 years onto the life of the chair.
In May, a crane and a D8 dozer travelled up the mountain to remove the gearbox out of the Timber Chair top station and transport it down to the maintenance shop. The gearbox was then successfully rebuilt by our maintenance team, in conjunction with an engineer from Austria, and transported back to the top of the lift and re-installed.

The delivery of the 2nd communication line for the electrical upgrade was delayed by three weeks and arrived the second week of July. The comm line is approx 1.8M/ 2.9KM long and weighs 6 Tons; a crane was required to lift the cable off the delivery truck. The cable was loaded to a specially prepared trailer for transport to the Timber unload /top station to be prepared for pulling in. The comm line carries electrical signals through for the safety circuits between the load and unload stations to ensure the safe running of all equipment.
In mid-July, on a cold and rainy day, up to 30 staff, including the electrical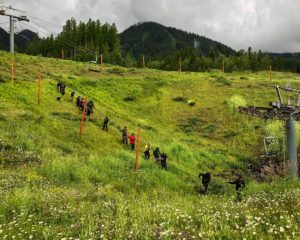 crew, pull the cable by hand from the Timber top station to the load at the base. They had to go from tower to tower, up and over every tower top and through the rollers. It was a massive effort by our Mountain Operations team and at the end of the day, rain-soaked and cold, they were all still smiling.
The next step was for the electrical crew to go through the process of setting the tension of the cable between every tower and terminating the electrical connections.
The panels that drive and control that chair lifts start, run and monitor all the safety devices and stop the controls, arrived on August 16th and installation began right away. The panels were installed in a day, but it took three weeks to connect all the wiring between the drive/control panel and the station and to verify that it was working correctly.
During the week of September 23rd, the lift is expected to start turning. We will be testing the setup and ensuring the correct functionality.
The load test is planned for the beginning of October. This involves loading the chairs with weighted buckets and performing a series of safety tests to ensure everything meets the manufacturer and Technical Safety BC standards.
Then, on November 30th (tentative opening date!), the Timber Chair will be waiting for you to take a ride. We can't wait!