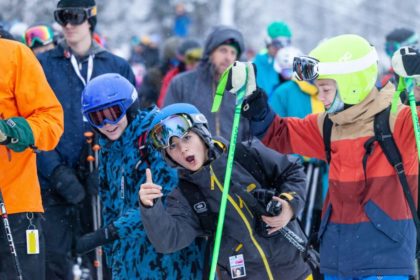 The act of sliding on snow is a mystical experience. It is a romance that only those captivated by its spell can truly understand. It can go beyond infatuation, beyond addiction, beyond reason, and in some cases, beyond the realm of impossible. It connects us to ourselves, it connects us to each other, it connects us to nature. Once you are drawn in, it is a lifelong passion. We sought out a variety of individuals, united by the love of sliding on snow, to find out just what gets their hearts beating this season.
The coming of a new season will rekindle the flame for adrenaline junkies and fun-seekers alike. An unmistakable flame resides in the heart of Greg 'G-Money' Barrow, a man whose local fame needs no introduction. Greg is a magnetic character whose Southern Swagger is iconic. Why G-Money? In the days of his youth, Greg delved into the world of basketball; and when making a shot the crowds would chant 'MONEY!!' Not what you expected hey…?
With the concept of carrying ski poles being a put off, G-Money took to snowboarding in 1982, and after traveling across North America he took the advice of his friend and hero, Craig Kelly, and opened Fernie's local snowboarding haven Edge Of The World. Why build a whole lifestyle around snowboarding? "Because of the feeling," said Greg as he flashed his charming smile. "You can't get that feeling anywhere else." So, what makes G-Money stand out from the crowd? Besides sporting the latest and greatest snowboards, Greg holds 18 consecutive first chair victories at Fernie Alpine Resort. We could tell you what it takes for Greg to snag first chair every year, but we are sworn to secrecy by The Griz himself. We CAN tell you only a snow-lover could commit themselves the way Greg has. Even though Greg wonders if a brave challenger will ever present themselves, his title still goes undefeated and at the grand age of 70 he once again found himself the first in line on opening day this season.
What makes a group of 10 and 11-year olds leave the comfort of their beds at 5:00 a.m. on a Saturday? The hope of winning first chair at Fernie Alpine Resort does! This season we have to highlight the spirit and enthusiasm of brothers Will and Ben Johnson and friend Tain Prentice, who were sitting proudly with G-Money on first chair. Only slightly less enthusiastic, Ben and Will's father, Mr. Johnson, described the new season as "The Year of the Dad" and is very pumped to be giving his well-deserved new skis a try. He went on to say, "There are a lot of reasons why I love skiing, but the elimination of distraction and just being able to let work and life go, being able to crank it up and feel the wind on your face. I don't know, there is nothing else like it." Lined-up on opening day were hundreds of skiers and snowboarders who felt the same and were eager to welcome in a new season.
But what happens when chasing a feeling becomes a matter of life and death? Caleb Brown, a born and bred local and avid skier, knows these consequences all too well. Caleb starts his account ominously by saying, "We thought it would be fine, even though there were signs that it wasn't." March 21st, 2017, Caleb was caught in an avalanche that flung his body down a mountainside for over a kilometer. Having luckily lived to tell the tale, no one would have been surprised if he had given up skiing forever. But for Caleb, the sport is more than just skiing, it's an addiction to adrenaline that dictates his every move. "There's nothing like it," Caleb said with a sparkle in his eye. "It is as close as you can get to flying without ever leaving the ground." For Caleb, nothing brings him more joy than being on skis, in the woods, with snow falling around him. The feeling Caleb chases was too valuable to leave behind, so the season following the avalanche he found a new perspective and passion – skiing bigger lines than he has ever skied before. This season will look a little differently for Caleb, knowing he can hit those lines is finally enough, as in the end what really matters most is that he is here to continue to experience what he loves with his friends and family by his side.
The intoxicating feeling of sliding on snow is something that can be felt and appreciated at any age. Someone who was brought up skiing will often have family or friends who have cultivated that seed, as was the case for Krista Turcasso. Krista was taught to ski at the early age of 3 years old by a close family friend. Though originally involved in ski racing, Krista's interests were turned to all-mountain skiing and the draw of finding solitude within white snowy peaks. The almost hypnotic feeling of floating on powder is something Krista finds exhilarating, but not to be overshadowed by experiencing skiing through the eyes of her daughters. Some of the many reasons why Krista enjoys time on the mountain include, "Creating that passion…Skiing is something you can have for a lifetime. To create something my family can do together and to see the girls get so excited about… [pushing] themselves to accomplish something – there's nothing like it." Krista, who taught her daughters to ski from the tender age of 18 months old, goes on to describe one of her favourite memories as watching her daughter discover powder for the first time and the absolute thrill of her disappearing skis! Krista and family are very excited for the season and all the adventures and memories they will create this year.
So, what's the big deal about sliding on snow? As the snow enthusiasts throughout our blog have said, "THERE IS JUST NOTHING LIKE IT!" We can't wait to see how you will celebrate SNOW-FUN with us this season! What made you fall in love with skiing or snowboarding? Let us know in the comments below!!