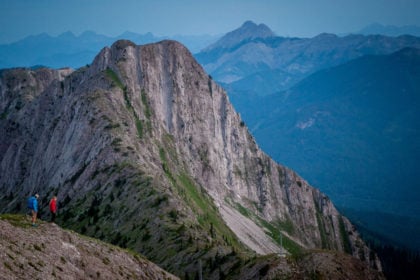 The lift accessed hiking at Fernie Alpine Resort offers a variety of gorgeous trails for various abilities with views that will make you want to whip out your camera at every corner, with hikes (guided also available) from easy, (great for the whole family including children) to advanced, (for experienced hikers ready for an all-day adventure).
NEW hiking stuff this summer at Fernie includes;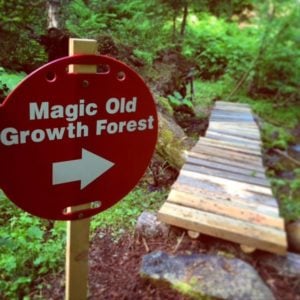 A new bridge on the Old Growth Magic Forest hiking trail, making the creek crossing easier – thank you to the Fernie Alpine Resort Trail Crew for keeping our feet dry!
A new trail!  Be sure to check out "Skeleton Flats" – access via the Lizard Summer Road from the top of the Elk Chair. The trail then climbs up the Dancer ski run area to Easter, and then connects with the Lizard High Traverse to the top of the Bear Chair. Highlights include a wide, fairly smooth medium grade trail, fossil zones, alpine wildflowers, avalanche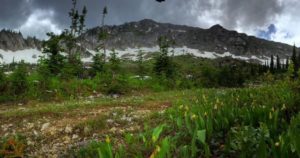 paths, and spectacular views of Lizard Headwall and the town of Fernie.  Put this on your "Must Do" list this summer!
Visiting Fernie with the family?  Try out the 'Sib Ridge Lookout' or 'Summer Road' trail.  Both are lift accessed hikes with a steady however not overly steep ascent with opportunity for learning along the way with new interpretive signs.  Don't forget to check out the Lizard View Platform, access by the Summer Road hiking trail.
For a more difficult adventure, try the White Pass trail , you'll observe rolling mountain views looking down into Currie Bowl or into Polar Peak in front of you.  Or yet for an extreme challenge take the Polar Peak trail, this hike can't last up to 7 hours and includes steeps where ropes have been installed to assist you in your climb.  If you are experienced enough to try this route, your senses will thank you as you take in the seemingly endless mountain and town views.
What else is there to do in Fernie this summer?  Aerial Park, Zipline, Biking and More!  Click for more info.