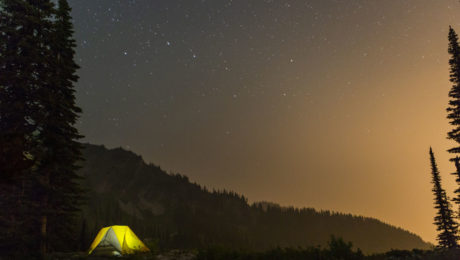 Imagine staring at the stars and seeing a meteor shower in a beautiful, dark, mountain setting!  Join us for this unique and amazing Perseid Meteor Shower viewing & mountain camping experience.
Your experience starts at 4 pm in the plaza, you will check-in at Winter Guest Services, load your gear and then it's up the Elk chairlift to the Bear's Den to set up your campsite for the evening (hosts are available to assist).
Once set up you will be lead on a guided hike, on your return, you will enjoy a delicious dinner at the Bear's Den. Our special meteor shower programming will start after dinner. It includes an educational talk, from our camp host on what the Perseid Meteor shower is and what causes it. Professional photographer, Matt Kuhn will then hold a photography session sharing tips on night photography, what gear is needed & how to capture the meteors.
Following dinner and the education sessions, you can head to the Bear's Den deck, or back to your campsite, to view the meteor shower which is set to peak between dusk and dawn.
After breakfast on Tuesday morning, you will be downloading Elk Chair and your belongings will be driven down, or you can stay up and take a hike and download when you are done with the incredible scenery. Your gear will be at the base for you to pick up when ready.
What To Bring:
Tent
Sleeping Bags & Pillow
Sleeping Pad
Personal items (toothbrush, change of clothes etc.)
Headlamp/Flashlight
Warm clothes (jacket, sweater) as alpine weather fluctuates
Good walking shoes/hiking boots
Camera
Cost per person: (includes lift access, guided hike, special Meteor shower programming, dinner and breakfast at the Bear's Den)
Adult (18yrs +) $119.95 + tax
Youth (13-17yrs) $84.95 + tax
Family $299.95 + tax (family rate is based on two adults and up to three children or youth)
Child (6-12yrs) = $53.95 + tax
Under 6 = Free
(Note:  As per our lift policy – Toddlers must be able to walk in order to ride the chairlift and access the event site.  Therefore, infants are not permitted for this event)
For more information or to book your spot on this awesome event – please contact us at 250-423-2435 or email [email protected]
Cancellation Policy – This event is weather dependent.   There is a 48-hour cancellation policy.  A call will be made on Saturday, August 10th based on the weather forecast.  If the weather looks like it will not cooperate for the event, participants will be notified and receive a full refund.
Photo by Matt Kuhn