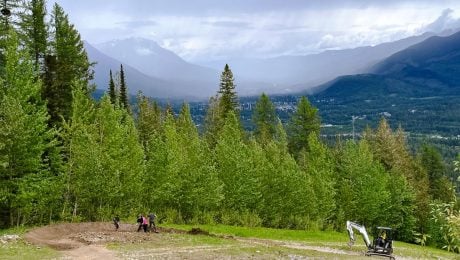 Tomorrow is the day, we open for summer 2022!
Enjoy lift-accessed mountain biking, hiking & sightseeing all summer long!
The Elk Chair will be open daily from 10:30 am to 4:30 pm (with extended hours from 10:30 am to 7:00 pm on Thursdays).
Our summer operations run from June 25th to September 5th
After a slow snowmelt, we've been busy getting the trails ready for another great summer of fun.
What have we been up to? Here's a quick rundown.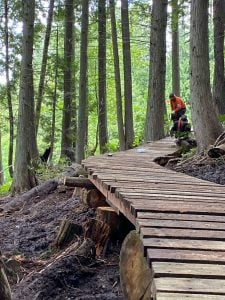 Lizard Lane
is freshly built and ready to go. A favourite addition to our trail network that's been a staple over the past few summers.
We are excited to have been able to add some much needed dirt and machine work to Mr. Berms. The intention is to reduce brake bumps, cap the rocks and enlarge the berms on the Elk Run.
Ben's Big Rig is back for 2022 as a green run to access Deer Trail or to ride all the way down to Bear load with access to Lower Duff Dynasty. Ben's Big Rig received dirt and machine work to build up berms and remove brake bumps. This work is still being finished off so may not be ready for opening day, but will be soon after.
The popular family-friendly hiking trail, Daisy Lane will be rerouted at the top to avoid Ben's Big Rig.
The exits to biking trails Top Gun, Aggravated Assault and Deer Trail received a machine top-up.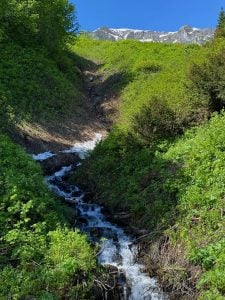 Upper
Top Gun
had a berm and jump rebuild by hand last fall. There are plans to rebuild the middle section this summer.
Bin Logdin had a berm and jump rebuild last fall.
All other trails have been raked and most green and blue trails have had drainage, ruts and berms touched up by hand.
Rubber Ducky, and most lower Timber side trails (except Bin Logdin), will be closed for opening day due to ongoing work. We are hoping to get these trails open asap.
Verboten may be closed until next week as there are 5 big trees down. We are working with our saw crew to have them removed.
All other multi-use trails are clear, signed and open.
Looking for more opening weekend info? Check out the following links:
See you on the mountain!