Our Trees are for Glades Movement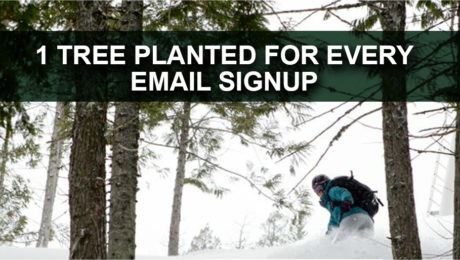 We like white on green here at Resorts of the Canadian Rockies; lots and lots of snow on our mountains and all over the trees on those mountains too.  Because if you've never come rocketing through the glades, ripping up and down the natural moguls with powder hitting you in your grinning face until you blast back onto the trail, you really haven't lived.  And we kind of want to keep that around for a while, for future skiers and riders, for our kids, and for our kids' kids too.
That's why we decided to take a stand and be the first ski resort company to refuse printing a brochure this year, to do what we can to lessen our environmental footprint.  On top of that, we'll plant a whole tree for every email sign-up to our online newsletter.  We hope this helps reiterate to consumers everywhere, that taking paper maybe isn't the answer any more, especially if you can find that information online anyways.
So, help do your part and keep the Trees for Glades!  Sign your email up on our Trees for Glades website and read our full story (plus enter our contest for the chance to win a spring event ski trip for you and 3 friends)!
Success So Far:
75,000 pieces of paper saved by this initiative alone
So far: 3000+ trees planted – thanks to you!
Photo courtesy of Trees for the Future Facebook.