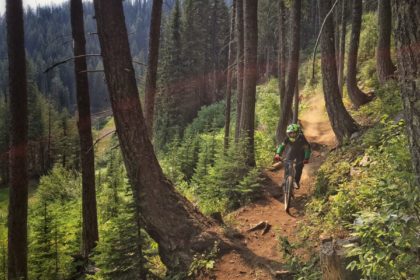 It's all downhill from here until Bonus Weekend #2! Fall fun continues with the Timber Chair running from 10:30 am to 4:30 pm on September 15 & 16.
Have you ever had dinner on top of a mountain? Here's your chance! Join us on Saturday, September 15 at 4:00 pm for a delicious Mountain Top BBQ dinner at Lost Boys Café. Guests will take a scenic chairlift ride up the Timber Chair and be treated to a special BBQ meal prepared by our chefs.  After dinner, take in the stunning views of the Elk Valley from the Lost Boys Café deck. The Timber Chair will be available for downloading from 6:15 – 6:45pm. Reservations are required and must be booked in advance by calling 250.423.2435. Visit our website for more event details by clicking here.
Dust off your old retro mountain bike, dig out your retro bike gear and get ready to race down a section of Deer Trail on Sunday, September 16! Registration will take place from 12 – 1pm at the Adventure Centre and the race will start at 2pm. Entry fee is $10 and includes a post-race bevie at Legends Mountain Eatery along with loads of great prizing including fastest times in each category, best retro costume, best decorated bike and door prizes! Click here for more information on the race.
In addition to our special events, here's a list of the other activities happening around the resort:
On Mountain:
Put on your hiking boots and explore your favourite hiking trail on the Timber side
Get in your two-wheeled fix and take a rip down our Legendary bike trails
Snap some photos of the beautiful autumn colours as they take-over the valley in the changing of the season
At Lizard Creek Lodge:
Recharge with some Saturday morning yoga from 8 – 9 am
Send your kids on a nature hike and BBQ from 5 – 7:30 pm
In the Plaza:
Don't miss out on all the savings – the End of Summer Blowout Sale continues this weekend at the Adventure Centre
We know you love the summer and winter months but now's your chance to FALL in love with the mountains in September.
Photo credit: Nicole Matei