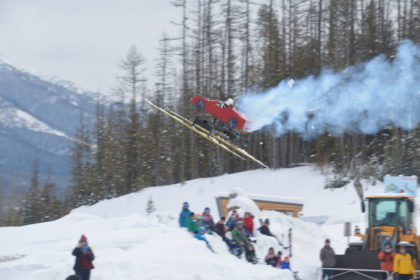 The appeal of the Dummy Downhill lies in its ability to bring joyous delight in the form of creativity, flight and carnage to everyone watching! This year's event saw 13 dummies (forms mounted on skis) compete against one another in an epic day of fun on Sunday, March 4th.
The dummies ranged from popular book characters like Captain Underpants, to recycling projects like The Giant Tin Foil Ball to news items like Elon Musk's flying car. All 13 entrants brought something to the table and delighted the gathered crowd as they were launched off a massive jump, only to land or smash or glide into the empty parking lot below.
Not all the dummies made it to the jump but the explosion of bits and pieces on the hill had fans cheering nonetheless! One crowd favourite was the Giant Tin Foil Ball that upon impact exploded into hundreds of tiny tin foil balls.
Judges were particularly impressed with the creativity behind the I Lava You dummy, a prehistoric volcano mounted on skis, complete with lava foaming out of the top. Another crowd favourite was Zippy the Zombie, a rather life-like fellow who chased anyone not wearing a Griz Pin down the hill, before teetering precariously on top of the jump and continuing his rampage in the parking lot.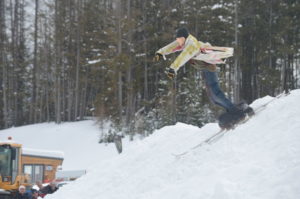 We saw appearances from a bikini-clad George of the Jungle, an incredible paper mache likeness of Captain Underpants, a surly Sasquatch requesting everyone just leave him alone and a group of rowdy rafting stuffed animals.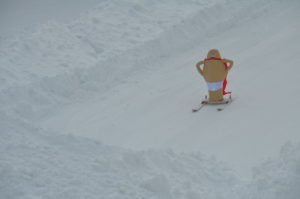 In the end, it was "Falcon Awesome", the aircraft built to mimic Elon Musk's orbiting Tesla that took the overall prize. It may have been the smooth flight trajectory, the wake of smoke it left behind or the satisfying crash at the end that won it the title of "Best Overall Dummy" but either way, the crowd and the judges loved it.
At the end of the day, we were happy to announce that with the help of everyone involved in the event we were able to raise $670 for the Canadian Cancer Society. The Raging Elk Dummy Downhill has been successful as a fundraiser in the past and we were pleased and grateful for the amount raised this year!
A huge thank you to everyone who came out for the event, built their dummies, and donated their time to such a worthwhile cause. Time to start planning those dummies for next year now…
RESULTS:
Best Overall (Distance, Creativity, Etc.) – Falcon Awesome
Best Creativity – I Lava You
Fun Disintegration – George
Best Ski Down/Best Trick – Zippy the Zombie
Most Style and Effort – Stop Following Me
Best Construction – Captain Underpants
Smoothest Flight – Big Air Machine
Hard Luck (3 way tie) – Forecasters Friday, Giant Tinfoil Ball, Tie Flyer
Best Name/Best Stunt – Wild & Rowdy River Rafters
Fundraising Award (raised $230) – Kentucky Fried Chicken Master
Longest Journey – Chester