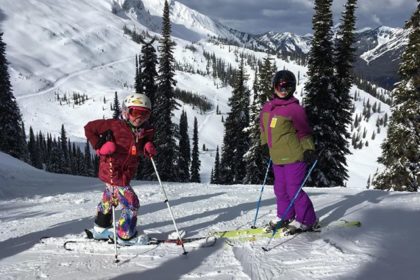 Life in the mountains is filled with beautiful moments, and every now and then, there are those times that you will never forget.
The best run of your life, the sweet, sweet feeling of the perfect pow turn, the first time you successfully went down a black run, standing on top of a ridge and seeing for miles and miles… those memories will forever be with you.
They help shape who you will become, and often, they will inspire a lifetime of adventures in the mountains.
Recently, Isla Gray, a 10-year-old shredder who spends a lot of time here in Fernie, wrote a school assignment on just that feeling, and we are excited to share it with you here. She did an excellent job of describing the feeling you get when you step out of your comfort zone and create a memory that will last forever!
Anaconda Glades
By: Isla Gray
I peered fretfully down the narrow, steep chute. A dusting of powdery snow covered the run. I was vibrating so hard because I was slowly slipping down the slope. My hands clutched my poles tight. I took a deep breath and set off down the slope.
Earlier that day, I was skiing with a big group of people when they decided to go to Anaconda Glades. My parents asked me if I wanted to do something easier. With a look of determination glinting in my eyes, I told them, " I want to do what everybody else is doing."
To get to Anaconda Glades, you have to cross a long bumpy traverse. The traverse itself scared me out of my wits. I was shaking so hard I nearly fell off the narrow, bumpy ski tracks. Mainly out of fear, I clutched my poles in a death grip. Finally, we got to the top of the second chute along the high ridge. From here, you could see the town of Fernie, a glistening patch of light in the fog.
I looked down the run and came to the verge of tears. I didn't even realize the soft powder pockets hidden along the run, only how steep it looked. At that point though, I had no choice but to set off down the run.
My skis made next to no track through the fresh snow. The steep chute was almost as narrow as my skis and I was having trouble turning. Anaconda really was like a snake, winding through the forest. Deep down in my stomach, I no longer felt like crying but enjoying myself.
After the first part of the run, it opened up a bit and the snow got less heavy. The fog had also lifted and the sun shone weakly through the grey clouds. I was glowing with happiness, so awed at what I had accomplished. All in all, doing Anaconda Glades was a good choice.
Twelve hours later it was my favourite run, although I had, at that time only done it twice. Along with Diamond Back, Morning Glory and Anaconda is a black run. They are the reasons I am such a good skier today.
_______________________________________
Keep up the great writing (and skiing!), Isla! We hope that you continue to love life in the mountains.