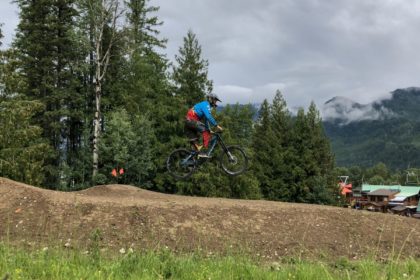 There are many things in this world that we take for granted. The way that we move and our freedom to walk, run, ski and bike are undoubtedly some of them.
It's not so hard.
Want to go skiing? Go.
Want to climb a mountain? Go.
Want to go downhill mountain biking? Go.
I have a question, what if you had no legs? Would the 'go' be as easy?
This past Saturday was International Ride MTB Day, and we had the honour of having Mack Adams, a shredder from the Elk Valley, spend the day with us here at Fernie Alpine Resort. Mack is an upbeat guy who is always keen for a chat and, ALWAYS keen to send it on the mountain with his friends.
You wouldn't guess it to look at him, but Mack is a double amputee who lost both of his legs at ten months old due to a congenital birth defect. He hasn't let that stop him.
At the age of 12, Mack learnt how to bike, using outriggers (adult training wheels), with the help of Mark Hall, owner of GearHub. He then tried his hand at dirt jumping but found that his true biking passion lay with downhill mountain biking.
So, once again, with the help of Mark from GearHub who loaned him a Rocky Mountain Maiden, on Saturday Mack was back up at our bike park, in the pouring rain, getting his laps in. At one point I asked him if he was doing ok. He answered, "Yeah, but my ankles are starting to hurt." His friends told me that these kinds of jokes had been flying around all day. His stoke was high, he was having fun, and watching him do his thing was inspiring! What a great way to spend International Ride MTB Day.
Mack has a dream of riding every trail that we have in one weekend, and Fernie Alpine Resort is working with Mack to help him make it happen. He is also a keen basketballer, volleyballer and loves to play his guitar – basically, nothing will stop him once he has set his mind to it.
What a legend.