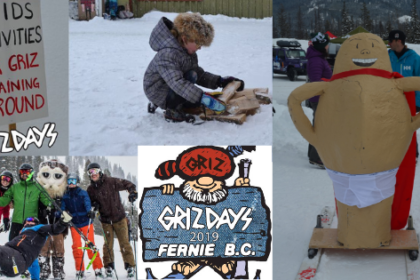 Griz Days are coming up, and it should be no surprise that the legend himself celebrated by giving us 55cm powder days.
So when you're not waiting for a giant man with a musket to blast down more powdery goodness, what can you get up to this weekend? As always, here at Fernie Alpine Resort, we have lots of fun activities planned, as well as even more engaging events happening in town. Get all the details for epic Griz Days events you won't want to miss!
Let's get started with what's going on around the mountain…
To kick things off, on Friday we have Ski with Griz. The Griz will be hanging around the resort and photo ready between 11:00am and 2:00pm. He'll be in various spots throughout the day including Lost Boys and the Bears Den so be sure to follow our social media to see where he's at. Don't miss your chance to meet a true Fernie snow legend.
On Saturday, kids from ages 6 to 12 are challenged to see if they have what it takes to be The Griz. The Junior Griz Training Ground is back and proudly hosted by Fernie Alpine Resort this year. This event includes the Griz Obstacle Course, Log Toss, Kid Friendly Axe Throwing and more, and it's FREE! The event runs from 11am to 1pm, but be sure to head into Guest Services between 11am and 12:30pm on Saturday to register and pick up a training card. The first 100 training cards to be returned will receive an epic treat bag! Don't forget to dress up for this year's theme, Griz Days Gone Denim, because there will be prizes given out at 1:30 in the plaza for the Junior Griz Costume Contest.
Last but certainly not least, the ever exciting crowd favourite, Raging Elk Dummy Downhill, is happening Sunday, March 3rd! Channel all your creativity, ingenuity, and imagination into your "dummy," and then, our favourite part, watch the carnage fly as they are launched off a jump of destruction! Ok, ok, we might be just a little excited! It goes like this: Registration is from 11am to noon at the bottom jump next to Timber Chair. At noon all Dummies will be assessed by the judges, 12:30pm the Dummies will head to the top, 1:00pm they meet their doom! At 3:00pm, in the Daylodge, we will have the awards ceremony. 100% off the proceeds from registration will be donated to the Canadian Cancer Society. Entry fee is a donation to the Canadian Cancer Society (Minimum donation amount is $20). Entries can bring their donations (in cash) to the check in on the event day or can do their donation online here.
Click here for all the contest rules for dummy assembly.
The magic of Griz Days continues in town, with tons of amazing events and activities, so many in fact that we can't mention them all in one blog. Here are some of the highlights –
Join the Arts Station on Friday at 4:00pm and 6:00pm for a theatrical performance of The Griz Myth Adventure, where the audience gets to choose the ending. Entrance for this fun night of theatre is only a toonie! Yup you heard right, we're not loonie, it's just a toonie! Ok, that was bad. If you're looking for something a little more upbeat, why not spend your Friday in the Griz Days Pub Crawl? Starting at 3:00pm at 9 different bars and pubs around Fernie, your ticket includes refreshments at each location, transportation from the ski hill to town, food and epic prizes.
Kick off Saturday with a pancake breakfast starting at 8:00am at the Community Centre, and then enjoy beautiful handmade goodies at The Griz Days Craft Fair starting at 9:00am. You can also try your hand at snow golfing on Saturday from 9:30am at the Fernie Golf Club. Fernie's fiercest and "Griziest" competitors battle it out for the title of The Griz from 11:30am at the Extreme Griz Competition, located at the Park Place Lodge and various locations around town. Feel the burn with a Hot Wing Eating Contest, starting at 4:00pm at the Fernie Hotel and Pub. 5:30pm on Main Street downtown kicks off the ever fun and fabulous Griz Days Parade. Watch out for the Fernie Alpine Resort float strutting their finest denim and blasting t-shirts from the Avalauncher! And finally, end Saturday with a BOOM in Station Square with a spectacular Griz Days fireworks show, starting at 8:00pm.
For a full list of events happening both at the ski hill and in town click here.
We wish you a fun, magical, and powdery Griz Days 2019!