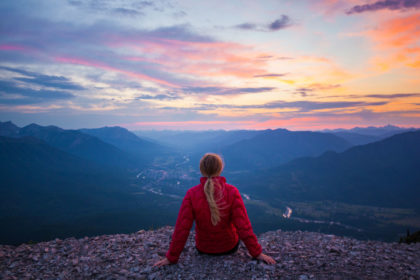 One summer afternoon riding the Elk Chair for an afternoon lap on the mountain bike trails I watched as a black bear sow and two cubs, browsed peacefully for huckleberries below the lift line. At Fernie Alpine Resort you're never far from raw nature and mountain adventure. It is the quintessential resort for summertime exploration where you can spot deer, moose, bear and other wildlife in a natural setting, hike on alpine trails waste deep in wildflowers, explore windswept ridges from mountain peak to mountain peak and test your technical mountain bike skills on steep trail or ease into some flowy singletrack. Or perhaps, you'll simply go in search of  fossils with your kids.
Enjoy breakfast and an espresso in the resort village, then load the Timber Chair, your ticket to adventure as it shuttles you from the resort village to tree line  and the trailhead for  numerous hikes ranging from hour long outings to full-day ridge top rambles in the beautiful Lizard Range. Families can opt to walk among the Indian paintbrush, mountain harebells, cinquefoil  and other flowers towards the wooden platform overlooking the Sand Creek Valley, and descend to a field of massive boulders known as the Mammoth Droppings, before circling back to Lost Boys Cafe for lunch with an astounding view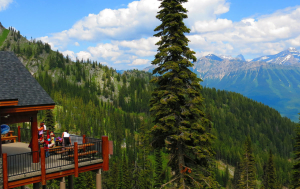 over the Elk River Valley. Ambitious hikers might choose to scramble to the height of land and traverse a scenic limestone ridge, over the rounded hump of Elephant Head and on to tag the summit of 2134-metre Polar Peak, the highest point within resort boundaries. And the even more ambitious and experienced hikers may want to tackle the Mountain Lakes Trail, otherwise known as Heiko's Trail. Built by Fernie legend Heiko Socher, founder of Fernie Alpine Resort way back in 1964, this 21 kilometer trail between Hartley Lake Road near the resort and Island Lake Lodge crosses two mountain passes and has everything you want in a mountain hike – meadows, waterfalls, caves, snowfields, soaring rock walls and more meadows. On any of these adventures, you might even find a fossil. Fernie is famous for them, especially for the legendary jumbo ammonite measuring 1.5 metres wide, discovered in 1947 in the Coal Creek Valley across the Elk River Valley from the resort. On mountain, you can visit  another Fernie legend, Nature Bob in the Interpretive Centre at the top of the Elk Chair, go on a guided hike to bone up on local flora and fauna, or take a short stroll  to see an equally impressive ammonite fossil.
Lift-accessed mountain biking? You bet. Elk Chair offers up a range of easy to advanced trails while all routes from the top of Timber are advanced and technical, with rocks, roots and drops on the riding menu. The base area at Fernie is also integrated with the region's extensive X country trail system, with pedal-from-your-condo or hotel access to many trails linking the resort to Mount Fernie Provincial Park and beyond.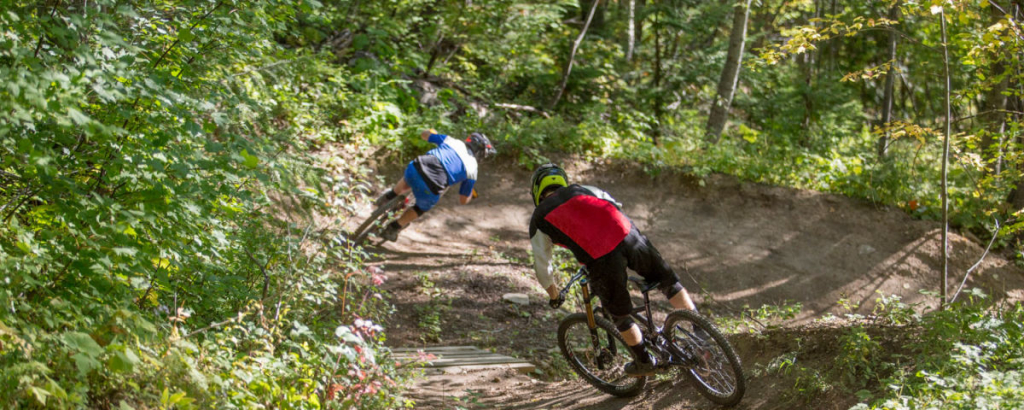 Near the base area, you'll find more fun for kids and adults, with a 500-foot-long zip line that has you soaring through the air with the birds, and a skill and balance-testing Aerial Park with cool features like the Rickety Bridge, Shrinking Islands and Picket Fence.
There is something special about Fernie and the Lizard Range. Skiers and boarders have been drawn by the legendary powder for decades. However, in summer, it's equally special. The mountains, made accessible by chairlifts, take on a different character. Rugged ridges, meandering trails, cool forests, and colourful meadows – it's a place that inspires you to get out and explore on two feet or two wheels. Take your pick.
Words: Andrew Findlay
Images: Robin Siggers, Nick Nault & Brent Grabowski
Main Image: @calsnape