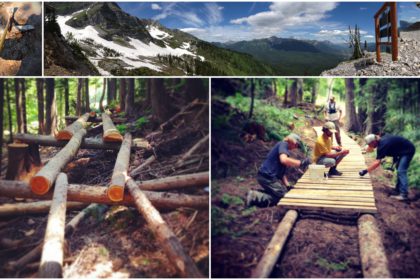 A dream doesn't become reality through magic. It takes determination, sweat and hard work.
– Colin Powell
Another legendary summer is well under way at Fernie Alpine Resort. We are now two weeks into bike park season yet it seems like only yesterday we were breaking ground on spring trail work. It is a major task to open over 2505 acres of hiking and biking trails; and this year we accepted the additional challenge of preparing our upper mountain Timber side trails as well.  Opening weekend always brings a level of anxiety, trepidation, and excitement for our crew as we look forward to seeing familiar faces out on the trails and hoping that our month of hard work earns a certain level of #ferniestoke. Despite significant amounts of rain fall, there were many muddy smiles and high fives flying to our relief.
After a quick respite, the Bike Crew headed back into the forest to finish our new green trail "Duff Dynasty". One of our main goals this season was to create a fun, flowy way for novice riders to access lower mountain green trails without having to ride the gravel road. While bike parks these days are taking a lot of flack for 'dumming down riding' or making things 'too green' the reality is that;
1. These 10% grade trails are more environmentally and fiscally sustainable than tech fall line trails
2. More people, including families, are entering the sport and looking for enjoyable (not hostile-on-the-brakes-scary) descents
3. These wide, machine made flow trails can be enjoyed by all abilities and promote progression that allows bike parks to attract, retain, and convert people to life long bikers which is great for the industry in general. We altered the route and grade of upper Mr. Berms to assist with this access and have now completed and opened Duff Dynasty top to bottom. We have also done some substantial work to Ben's Big Rig including resurfacing, rebuilding the berms, and widening the traverse across the Dipsy which provides an alternative green route down to Eville and Honey Bee. Crews will continue to revisit and improve these new sections as the season progresses and the trails wear in.
The remainder of our time over the past two weeks has been spent improving all the small stuff that usually goes un noticed. Tasks like weed whacking, pulling out stubborn boulders, cutting roots, and pruning back trees is not glamourous work, but it is definitely hard work worth doing. This should translate to better flow, improved sightlines, and less stinging nettle burn to the shins. There are also a few new connector lines out there to assist with the choose-your-own-adventure style riding we all love; keep your eyes our for a lower TNT to Duff Gardens connector (cuts over to lower Rumplstumpskin above all the wood work); and a steep loamy alternate route on Rumplstumpskin just before the slow tech rock section with the small bridges.
Moving forward, you will see our crews out this week improving the hiking trail out Lost Boys Pass, working on a total rebuff of Canada Cup Downhill to repair major winter erosion issues and alder overgrowth, in addition to ongoing buffing of all your favorite rides. There are a few other projects in the works but you will have to keep checking in for the latest updates and sneak peak photos.
In the meantime, keep on slaying it Loam Rangers. The Scott Thursday Night Race series continues with our third race of the year on July 17th and our Kids Intermediate Freeride campon July 24th. See ya out there!
Sincerely,
Your Fernie Alpine Resort Bike Crew