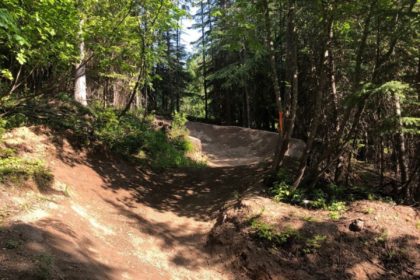 Rise and shine it's almost bike park time! With barely a moment to wipe winter's sleep out of our eyes, the Bike Crew commenced our clean-up earlier this month. The FAR trails emerged from their snowy slumber with only a few 'nightmares' to be soothed away before we swing open the doors on opening day on June 23rd, 2018.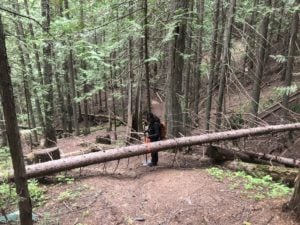 Last fall's dramatic wind event left a clever game of forest pick up sticks best suited for woodland giants. We have to give a huge shout out to the FAR Saw Crew for their extraordinary talents helping to clear the challenging forest floor tangles and treetop snags. Once these hazards were removed, our forest gnomes headed to work in the dirt and to repair damages to wood features. Top Gun, Deer Trail, Duff Dynasty, and Bin Logdin have since had machine touch-ups throughout. Will Power, Monorail, Mr. Berms, and Ben's Big Rig are next up on the list.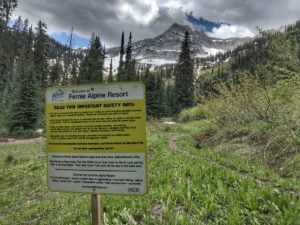 The majority of our summer mountain signage has been deployed with a major upgrade this year to the new Ride Smart trail marking program. This new system differentiates freeride vs technical trails and helps to identify trail progression, ensuring riders have an enjoyable and safe experience on the mountain. Not to mention, we also have a brand-new hiking trail map and guide brochure this summer.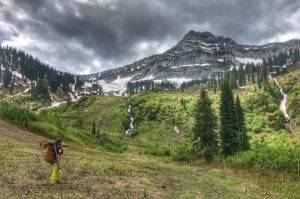 As of today, this is what we'll be able to offer for opening weekend: all Elk side trails, all multi-use trails, Rumplestumpskin from the top, all lower Timber trails, and the bike skills park. For the hiking crowd, again all multi-use trails, Megasaurus, Siberia Ridge Loop, and Lost Boys Look Out. All other hiking trails are currently snowbound and will remain closed for safety.
What else is on the plate for summer 2018? We've decommissioned Canada Cup, Cripple Creek, and Hornet from our Bike park trail portfolio to make room for some exciting new projects. We would like to ask all riders to respect these closures so that we can focus on moving forward instead of repeatedly heading 'back' to enforce signage and fencing during the season. The BC Cup / Canada Cup is returning to Fernie, July 21-22nd with the intention of having the full upper BC Cup course open for public consumption the remainder of the summer. In addition to our legendary Thursday Night Race Series presented by SCOTT, we have partnered with the North Face to offer an all new Running Race series on Thursdays as well.
See you out there,
Nicole & The FAR Trail Crew
Photos by Nicole Matei