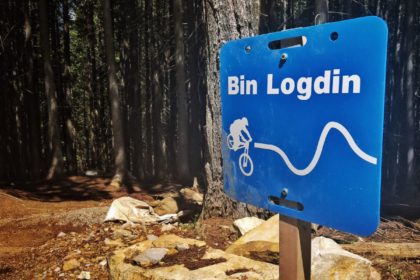 June 19, 2017
Let's get ready to Rumple…. stumpskin that is! With the road to the top of the Timber chair now free of snow, crews were able to go exploring on our upper elevation trails this week. After a little bit of work tree falling and debris clearing we can now advise that Rumple, TNT, Bike Thief, and Neverland will be open top to bottom next weekend. Riders can expect to encounter a few snowy patches and early season conditions on the upper mountain trails. Last year's new BC Cup line on Bike Thief, and the section of TNT that was closed last year for Lift Maintenance work on the White Pass Chair will re-open for this season.
And in the other corner, all Elk Side trails are also great contenders for Opening Day. Crews have been taking care of a few last minute projects and buffing out all your favorite rides this week. With close to fifty hiking and biking trails on the mountain, this is a huuuuuge task for our crew. We've been focusing on our heavy weight trails (Top Gun, Eville, Duff Dynasty, Bin Logdin, Deer Trail, Hollow Tree…) and are working our way through to those which receive a little less traffic. Fortunately, many of our trails, like Bin Logdin and Duff Dynasty, just needed a little tree falling, drainage clean-out, and a quick fan rake to get rid of the blow down debris.
Riders can expect great conditions on the Elk Side trails with newly worked berms and jumps perhaps riding a little soft on opening day. Take a few slow, warm-up inspection laps your first few rides to re-familiarize yourself with the lay of the land and some of the new changes in place this season.
The clock is ticking away with only five days left before lifts start spinning. Back to work!
FAR Trail Crew