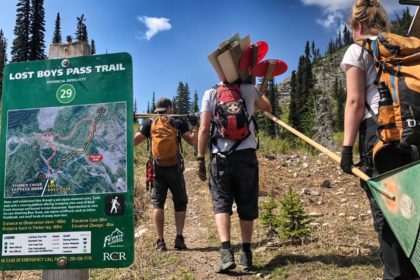 It's the final countdown…
We're coming into the homestretch for opening day 2018. In less than 24 hours our doors will be ready to blast open for another Legendary summer of bike park operations, lift accessed hiking/camping and treetop adventures in our Aerial Park. Our to-do lists are long and with a severe storm watch in effect for today we've got to get back out there to get things in order for you before the rain falls, but here's a quick update to wet your taste buds.
In our last crew report we told you about all the great work done on our Elk side trails this spring. Shout out to AERE Films who shot some amazing footage showcasing some of the tune-ups on Top Gun, Duff Dynasty and Deer Trail. You can check out the short video posted on our social media channels here.  The dappled light kept much of our work shrouded in shadowy secret during the vid but there were quite a few hoots and hollers heard while they were filming – you'll just have to come out and inspect those corners for yourself this weekend! We'll have all Elk side trails open for you with the exception of Alternate Flight Pattern, Holo Bike and Kodiak Karnage. We're working on a new section of bermy / jumpy trail on the Lower Lizard ski run to bring Elk side riders into the base. This is still a work in progress so, in the meantime, all riders will need to ride a short section of road to return to the plaza and the lifts. Please respect your fellow riders and other users sharing this road – SLOW DOWN.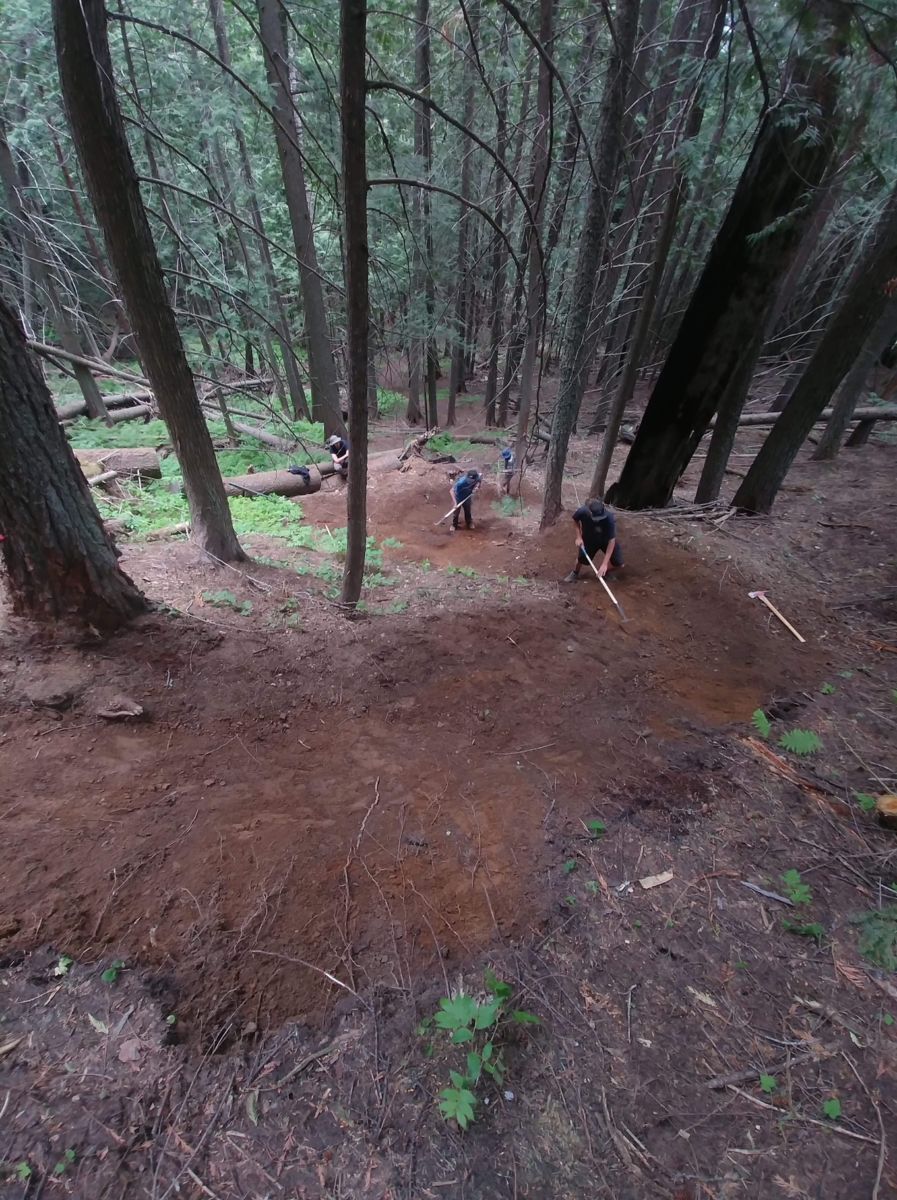 With snow finally melting off our alpine zones, our crews have spent the last seven days focusing on our Timber side biking and hiking trails. Last Saturday, we hosted our first ever volunteer trail day work party. A solid crew of seven came out to kick off a rejuvenation project on Rumplestumpkin. The work continued all week as we repaired cribbing, rebuilt corners and took care of some other messy sections that needed love. There is still a lot of work to do here over the season but we're pretty stoked on the great start and look forward to getting this trail back in primo shape for all you dark side riders. Current Timber side trail status – Upper TNT will remain closed for the weekend, however we will be offering Bike Thief, Bin Logdin, Lower TNT and Neverland in addition to the 4km alpine to valley bottom Rumplestumpskin. Hikers can access outstanding alpine views on the Siberia Ridge, Lost Boys Lookout, White Pass, Pika Pass and Milky Way Trails. Note – some of the hiking trails still have snow such as Pika Pass, but the trail crew has marked the trail and it will be a very "cool"  hiking experience.
A few friendly reminders as we unleash summer on you. Many of our trails have changed and early season conditions exist across our mountain. Take it easy. Do a few slow inspection laps to scope out the changes, gauge your speed accordingly and get reacquainted. If this storm produces tonight, there could be blowdown and slippery conditions out there tomorrow. Watch for workers out on the trails and please stop to give us your feedback or voice any concerns you may have. For on-mountain emergencies please feel free to program the Patrol Emergency Number (250-423-2426) into your cell phones. Can't wait to see everyone out there!
Nicole & The FAR Trail Crew
Photos by Nicole Matei & Nik Dunn