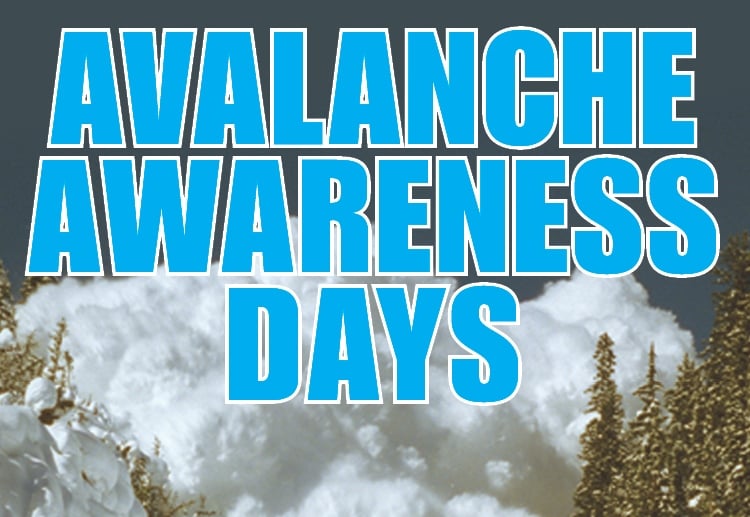 Avalanche Awareness Days
Fernie Alpine Resort promotes safety in the backcountry with Avalanche Awareness Days. For one week, you can learn more about the dangers of avalanches, watch virtual demonstrations from our ski patrol, and practice your beacon and probing skills in the on-mountain transceiver training area. Don't miss out as there are amazing prizes to win from our sponsors, Helly Hansen and Avalanche Canada!
Avy Savvy Challenge  – January 18th – 23rd
Do you know everything about avalanches and the backcountry? Test your skills and knowledge with our Avy Savvy Challenge! Locations to our signs are below. Please answer each question on the sign and enter your response into our online platform. Each question answered enters you into one of our draw prizes sponsored by Helly Hansen & Avalanche Canada. Merino wool base layers, gloves, and so much more to win!! Plus, everyone that enters will receive a free one-month FATMAP Explore membership thanks to our friends at FATMAP.
How to play
Visit each location below (choose a route that works best for you)
Find our blue signs that say Avy Savvy Challenge (all signs are inbounds and posted beside the trail/mountain signs or on a bamboo stick)
Answer the questions and enter them in here: CLICK HERE
Each question answered is another entry into our draw prize!
(HINT – Visit Avalanche Canada's Online Avalanche Tutorial to brush up on your knowledge before)
LOCATIONS:
Location 1. Weather Plot (IMPORTANT: DO NOT ENTER THIS FENCED OFF AREA – sign is posted on a bamboo stick outside)
Location 2. Entrance Access to Backcountry Area Lost Boys
Location 3. On-Mountain Transceiver Training Area
Location 4. Top of Bear Chair Beacon Check
Location 5. First Aid / Ski Patrol Top of White Pass Quad
Location 6. Top of Timber Beacon Check
January 22nd – Visit Paul & Drift in the Avalanche Dog Training Area 
Paul and Drift will be in the Avalanche Dog Training Area from 11am – 1pm on Saturday 22nd. Feel free to stop by and say hi to this dynamic duo. They will also be there to answer any questions you might have about what they do to help keep everyone safe at FAR.
Location: Straight off of Timber Chair – Straight onto Fallingstar – Area is right above Freeski Training area.
Buried Treasure Challenge – January 22nd-23rd
Bringing back last year's challenge!

HOW TO PLAY & WIN PRIZES:
*UPDATED TIMES* Drop into the Avalanche Transceiver Training Area between 10 am – 1 pm on Saturday 22 and Sunday, January 23rd.
Bring your transceiver and probe or borrow one of ours (we recommend you practice with your own equipment if possible).
Choose your difficulty level (easy, medium, hard), which will determine how many signals you have to find—the more difficult the challenge, the bigger the prizes.
 To complete the challenge, you must find all the transceiver signals in the Avalanche Transceiver Training Area with a successful probe strike for all of them.
Once you've completed the challenge, our event volunteers will draw you a random prize from the corresponding prize draw (easy, medium, hard).
Game rules and COVID-19 Safety Plan:
Here is our plan for how we are going to run the buried treasure game safely and effectively within the current COVID-19 guidelines.
Maximum capacity:
Only one cohort group will be allowed at the Avalanche Transceiver Training Area at one time.
If the Avalanche Transceiver Training Area is occupied, other participants will be asked to come back later (no waiting on-site).
All social distancing rules of 2 meters apply while at the Avalanche Transceiver Training Area.
Shared Equipment:
It is recommended that participants use their own transceiver and probe if possible.
We will have two spare sets of equipment for use.
Our event volunteers will thoroughly sanitize any borrowed equipment to participants before the new participant can use it.
PPE:
All staff, volunteers, and participants must wear appropriate face coverings at all times during this event
Prizing:
The prize draw will be done solely by event volunteers
Once a prize has been selected, guests will collect it from a safe distance on-site
Thank you to our amazing sponsors Helly Hansen | Skiing, Sailing & Outdoor Apparel | HH CA  & Avalanche Canada and their sponsors – MEC and FATMAP