Try out the vodka tasting Ice Bar (presented by Stoli), an exhilarating vodka tasting experience.  By sampling a variety of vodkas at ultra low temperatures, donned in provided Helly Hansen parkas, you'll be able to appreciate the true flavour.  The elite Vodka Ice Bar is an experience not to be missed this winter! Open daily from 11am-10pm. Call (250) 423-2056 to make a reservation. More Ice Bar details here.
5346 Highline Drive
Fernie Alpine Resort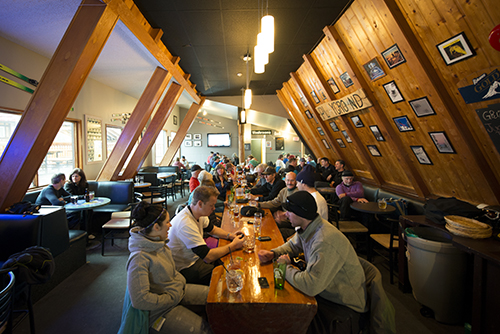 GRIZ BAR
GRIZ BAR
Featuring Pub style food and tapas. Have a cold one on the Kokanee Deck or listen to live music on the Griz Bar stage every Saturday and Sunday afternoon from 3pm to 6pm and Saturday evenings from 9pm to 12am.
5339 Fernie Ski Hill Road
Fernie Alpine Resort
Fernie, BC V0B 1M6
THE BRICKHOUSE
The Brickhouse is located on the main floor of the historic Bank of Canada building and is "A historic lounge – modern atmosphere and cuisine." This catch phrase is evident in all aspects of the bar: Mediterranean infused pub menu, loungy s-shaped booths, windows that expose the original arch shape and open to allow a patio feel, re-use of wood from the original structure, live background music of DJ's and bands, and a busy mix of people from 11:30 am until close, seven days a week.
401 2nd Avenue
Fernie, BC V0B 1M0
(250) 423-0009
THE ROYAL
Located in one of Fernie's first hotels, The Royal plays host to some of the best parties in Town. If you're looking for good beats and good times, The Royal is your spot. Open Monday to Saturday, 9pm - 2am.
501 1st Avenue
Fernie, BC V0B
(250) 946-5395