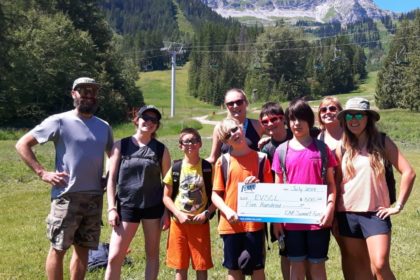 The Resorts of the Canadian Rockies (RCR) is forever grateful for the passion of their employees, guests and especially the home towns where the resorts are located. In each town there are people who have supported the resorts for many years and in an effort to give back to these communities, the Community Summit Fund was born. 2007 marked the first year of the Summit Fund program, with an initial five-year commitment, RCR donated over $150,000 to over 100 community organizations. After the first five years, RCR decided to officially renew the Summit Fund indefinitely and continue to donate to organizations, schools and charities each and every month.
At Fernie Alpine Resort, our Community Summit Fund has helped transform the local Fernie community by supporting sustainable local projects that help create positive opportunities and outcomes for its citizens, especially youth.
In the last six months, we have donated just over $11,000 to 22 different local organizations and projects including:
Fernie Chamber of Commerce – support of 2018 Griz Days

Fernie Mountain Film Festival

Local athlete, Andrea Byrne – Freeski Competition support

Fernie & District Arts Council – support of the Out of the Box: Dumpster Project

Fernie Secondary School -support the ski/snowboard team to attend 2018 provincials, teaching classes on outdoor trapping traditions, new school fitness room equipment, annual scholarship program

Emily Brydon Youth Foundation

Fernie Alpine Ski Team – support of FAST Film Festival 2018

Isabella Dickens Elementary School – support annual spring tea fundraiser

Elk Valley Dolphins Swim Club – support club to attend swim meet

Elk Valley Society for Community Living

Canadian Adaptive Network – support Fernie Disability Awareness Night

Fernie Golf Club – support 100th anniversary commemorative display

The Ghostriders Adventure Camp

Wapiti Music Festival Society

City of Fernie – support for Canada Day celebrations

Fernie Heritage Cemetary and Restoration Society

Fernie Tennis Community Association – support of East Kootenay Open 2018

East Kootenay Foundation for Health – support for 2018 Starlite Ball Fundraiser

Friends of the Fernie Heritage Library
The Community Summit Fund isn't just about cash donations, but it's also about being involved in the community ourselves. Our very own Robin Siggers is a great example of an employee giving back to the community. Robin is involved directly with the Fernie Ski Touring & Trails Club. He also volunteers his time working on the Fernie Dirt Jump Park – using the RCR loader, he moves dirt and shapes the jumps. On top of that, he's a regular contributor to the Fernie Trails Associations crew – working nights maintaining the trails.
For more information on the Fernie Alpine Community Summit Fund and how to apply for a grant, please visit: https://skifernie.com/summit-fund/.