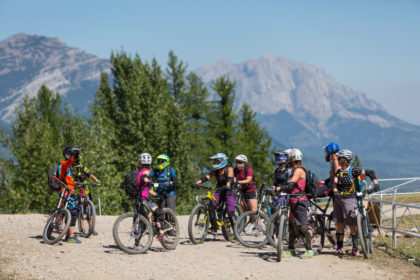 Downhill mountain biking in Fernie is exhilarating, and often breathtaking.
The downhill trails here at Fernie Alpine Resort are in prime condition and riding beautifully.
Come and check out what it's all about, and advance your skills, in one of our mountain bike camps or lessons!
NEW! ADULT CO-ED DOWNHILL CAMPS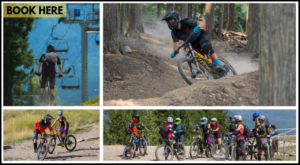 Are you comfortable on green & blue trails but want to develop your downhill riding skills?  Join us for our new adult co-ed intermediate weekend camps – focusing on progression to more technical descents, roots, rocks, drops, jumps & obstacles. With small group sizes, our certified professional coaches will help take your riding to the next level.  Camp includes 10 hrs of coaching over two days, lunch, lift tickets, and bike maintenance session.  Ages 18+.
Dates:  July 13 & 14 / August 10 & 11  Time: 10am – 4pm. Price: 2 day camp $229 / 1 day camp $139
WOMEN'S MOUNTAIN BIKE CAMPS

MTB designed by women for women! These camps are catered to various levels of riding ability and are led by qualified female instructors. Camps include skill sessions, bike maintenance, lift tickets, instructional trail rides and lunch.
Dates:  July 13 & 14, 2019   /   August 10 & 11, 2019
Time:  10am – 4pm
Price: 2 day camp $229  /  1 day camp $139
MOUNTAIN BIKE PRIVATE LESSONS
For the beginner or hardcore rider — have a lesson tailor-made to suit your skills! Rates are based on 3 people per lesson — price includes instruction only. Lift ticket is required.  Participants receive a 20% discount on bike rentals for the day of their private lesson.
DISCOVER MOUNTAIN BIKING
Discover the thrill of Downhill Mountain biking under the expert guidance of one of our bike coaches. Learn the basics and gain confidence! Minimum 3 people per lesson and a maximum of 10 people per lesson. The clinic includes a 3-hour coaching session, 3-hour bike rental and 3-hour lift pass. Rates based per person.  For ages  8+.
Days & Times:  Saturdays, Sundays, Tuesdays & Thursdays from 10am-1pm
PEAK TO PARK TO PINT BIKE TOUR
Join us for a fun afternoon of biking! Starting from the top of the chairlift at Fernie Alpine Resort, cruising downhill to Mt Fernie Provincial Park and then pedalling through town to enjoy a refreshing sampling of East Kootenay beers! Includes guiding, lift ticket, and post-ride sampler drinks. Guests then have the option to take our complimentary shuttle back to the resort. Minimum 2 participants.  Ages 19+.
Fridays & Saturdays
1:30 PM to 4:30 PM