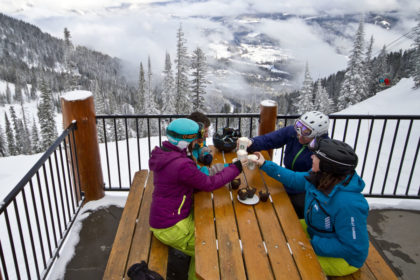 For Immediate Release: September 26th, 2017
What's New?  Mountain Improvements & Upgrades for the Upcoming Ski Season
Fernie, BC – at Fernie Alpine Resort we strive each season to make improvements to our mountain operations and infrastructure to ensure we are providing the best experience possible for our guests.  Here are some of the highlights we've been working on for this upcoming ski season;
Famous for Legendary Powder!
We'll leave loads of pow for you but with 2 new grooming cats, a winch cat and a free groomer we'll also make it nice for ripping cruisers, plus 2 new snow guns keep that pow never ending at Fernie on our non-groomed runs!
New Eats & New Brew!
We're looking forward to debuting a brand new restaurant in the plaza at the base of the resort (where Kelsey's previously was) called Legends Mountain Eatery.  Introduced near the end of last season, Fernie is proud to now pour its own beer – try the Polar Peak Ale on tap this winter at The Fernie Griz Bar and Legends Mountain Eatery.
More Space to Rip!
On two popular runs – Arrow (blue #55) & Bow (blue #52), doing some dirt work that will help provide good early season skiing & riding conditions as the runs with me smooth and easily covered by snow.  Other areas getting gladed are – Surprise trees and general areas in Timber Bowl, NE Glades, Steep and Deep, Stag Leap, Skydive Traverse.
Yoga on the Mountain – weekly classes
Join us for our new Yoga on the Mountain weekly classes, held in Lizard Creek Lodge, Fernie Alpine Resort's premiere ski in/ski out hotel.  Classes run on Wednesdays (vinyasa) and Saturdays (ski/snowboard stretch and warm up).
Snowshoe & Dine Tours
Join in on a guided snowshoe tour around the resort and then afterwards visit Cirque in Lizard Creek Lodge to pair your snowshoeing with a pasta/wine dinner on Tuesdays.
Fat Biking Ride & Dine
Take a guided Fat Biking tour and then finish it off with a Burger and Beer!  Fat biking rentals are available or tour is available for a reduced rate with your own bike.
Women's Weekends
Just for the ladies, visit Fernie Alpine Resort to take a special women's ski/snowboard clinic paired with a spa treatment at Lizard Creek Lodge's Neve spa.
Backcountry Basics
Backcountry Basics is a 2 day course introducing clients to the use of avalanche rescue equipment, ski touring equipment and uphill travel techniques, mountain environment awareness and ski improvement, all taking place in a safe, inbounds, avalanche controlled area (to be determined daily).
Chairlift Work and Upgrades
The Bear Chair had a complete gear box rebuild and the Elk Chair had the main drive bearings replaced (bot of these jobs required the bullwheel drives to be removed – not an easy feat)!  Fun fact – a technician was flown in from Italy to do the work on Bear Chair.  Other chair upgrades and work include The White Pass Chair getting a new drive (essentially the brain that drives the lift) as well as getting a new operator building at the top of the lift to improve living conditions up there for the operators.  This work is all in addition to our annual lift maintenance program.
Fernie Alpine Resort • Facebook • Twitter • Instagram
-30-
For more information, please contact:
Matt Mosteller
Senior VP Marketing & Resort Experience
Resorts of the Canadian Rockies
[email protected] • Twitter & Instagram – @PowderMatt • Powder Matt's Blog