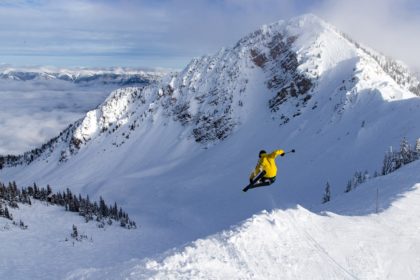 Fernie, BC – at Fernie Alpine Resort we strive each season to make improvements to our mountain operations and infrastructure to ensure we are providing the best experience possible for our guests.  Here are some of the highlights we've been working on for this upcoming winter season;
The Epic Pass
Resorts of the Canadian Rockies' Fernie Alpine Resort, Kicking Horse Mountain Resort, Kimberley Alpine Resort, Nakiska Ski Area, Mont-Sainte-Anne, and Stoneham will join the industry-leading Epic Pass in a long-term alliance beginning with 2018-19 winter season, bringing the total to 61 mountain resorts around the world for skiers and snowboarders.
Your new home away from home – Timber Landing Development
Our exciting Timber Landing Development has broken ground!  With construction starting over the summer for new lots.  Get more information on our website.
Two Activities, One Day
Get your 'Dual-athon' on here. We challenge you to do two activities in one day. Here are two routes, one designed for Nordic skiing and the other for biking or snowshoeing. Head to Mount Fernie Provincial Park and park at the Elk Valley Nordic Centre or Island Lake lower parking lot. It's your call if you want to ski or bike/snowshoe first!
Ski Touring 
Ski touring. Yep. Alpine Touring. This is the place to get skin in the game. The early riser who skins up, gets the best run to ski down. Learn how with our Winter Sports School, a ski touring expert from the resort will lead skiers up a designated run (with equipment that allows you to glide uphill) and get your backcountry basics with our team of professionals – all part of our Backcountry Basics clinic.
New Equipment
We're adding 2 new grooming cats to our fleet!  Plus our new cats are 'Tier 4', innovative technology from Pinroth, meaning they meet the new emission standard for the US.
Information subject to change.
Fernie Alpine Resort • Facebook • Twitter • Instagram
-30-
For more information, please contact:
Matt Mosteller
Senior VP Marketing & Resort Experience, Resorts of the Canadian Rockies
[email protected]
Twitter & Instagram – @PowderMatt
Powder Matt's Blog