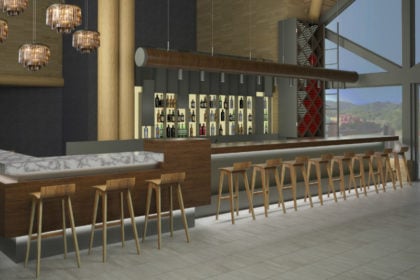 For Immediate Release: November 13th, 2015
 
WARM UP THIS WINTER IN THE NEW VODKA TASTING ICE ROOM AT LIZARD CREEK LODGE
Fernie, BC – Lizard Creek Lodge- just got even better! In addition to the complete renovation and new restaurant & bar called Cirque Restaurant, Lizard Creek Lodge and Fernie Alpine Resort announce a new ICE Bar will be added to enhance an already incredible experience.
Come into the cold and experience an exhilarating line up of sub-zero vodka. We provide the Helly Hansen goose down parkas, all you'll need to bring is your sense of adventure.  At an ultra low temperature the elite Ice Room is a frozen vodka tasting room, with more than 20 vodkas from across the globe, this unique Lizard Creek Lodge experience is not to be missed.
Wrapped in our Helly Hansen, Ultra cold ready parkas, you'll feel comfortable and cozy as our vodka expert explains how the intricacies of distillation and filtration affect the flavour profile of the finished product.  Taste a Stoli Vodka and two more vodkas of your choice, and discover how the extreme environment enhances the flavour while minimizing the alcohol burn.
Official Website
Facebook Page
Twitter – @LizardCreek
About Lizard Creek Lodge & Resorts of the Canadian Rockies Inc.   
Lizard Creek Lodge is a boutique ski in/ski out hotel property located at Fernie Alpine Resort in British Columbia.  Fernie Alpine Resort is one of the Top 5 Ski Resorts in North America, and is home of up to 37 feet of legendary powder each winter, the "Griz" and more.  Lizard Creek, www.lizardcreek.com, is part of the Resorts of the Canadian Rockies Inc. (RCR) family. Proudly Canadian, Resorts of the Canadian Rockies Inc. (RCR) is the largest private ski resort owner/operator in North America, owning six ski resorts across Canada, including Nakiska Ski Area in Alberta; Fernie Alpine Resort, Kicking Horse Mountain Resort and Kimberley Alpine Resort in British Columbia. RCR also owns and manages a number of hotels and golf courses, including Trickle Creek in Kimberley, and Wintergreen Golf and Country Club in Bragg Creek. RCR aims to provide each and every guest The Ultimate Experience.
For more information, please contact:
Matt Mosteller
Senior VP Marketing & Resort Experience
Resorts of the Canadian Rockies
[email protected]
Twitter – @PowderMatt
Powder Matt's Blog
Powder Matt on Pinterest
Powder Matt on Google +
-30-