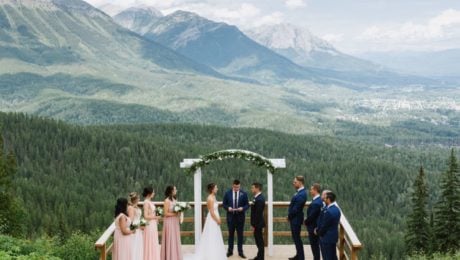 Have you always dreamt of getting married in the mountains with breathtaking views all around you?
The world may have changed, but the magical mountain views at Fernie Alpine Resort have stayed the same!
We know that it's an uncertain time, but that doesn't mean you can't still have your dream mountain wedding – it just has to happen on a smaller scale. Our team has worked hard this year adapting to the changes and developing protocols that are in line with the government orders to ensure that you, your guests and our staff stay safe while you and your partner celebrate the beginning of your new life together.
Your happily ever after starts here…
A highlight for us this year is the newly developed Elopement Package that caters to the small and intimate weddings. We understand the appeal of small, intimate weddings with only your closest family and friends in attendance. Rest assured that you can still have all that our magical mountain settings have to offer. We have loved seeing the creative ways that our wedding couples have brought together their intimate ceremony and have the mountain wedding that they have always dreamed of.

Our Wedding Guide provides you with information on all of the available options. Whether your wedding is intimate or extravagant, rustic or elegant, there's a magical mountain setting to create the wedding of your dreams.
Our Catering Guide provides you with all the options available for your food and beverage needs. Have your heart set on something that's not in here? We can get you working with our catering team to customize a menu.
We look forward to talking to you about all the options that we have available and finding what works best for you!
Our weddings are now booking into summer, 2022 with but do still have limited availability for next summer so please visit our wedding page, and contact Stacey Charest, our wedding coordinator, for more information.
Stacey Charest
Weddings & Groups Coordinator
Phone: (250) 430-7163
E-Mail: [email protected]