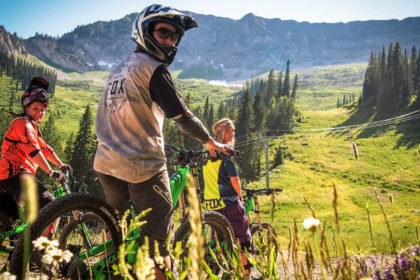 For Immediate Release:  June 16th, 2016
Save a Buck & Bike the Best Parks in the Rockies
British Columbia, Canada – Kicking Horse Mountain Resort in Golden, B.C as well as Fernie Alpine Resort in Fernie, B.C and Kimberley, B.C are well known mountain biking and cross country biking destinations for Canadian tourists.  With the current America/Canadian dollar exchange rate it's time our neighbours to the south also start taking notice of the mountain biking trails as well as the savings offered.
Kicking Horse, Golden B.C
Try out the only gondola accessed mountain biking in the region at Kicking Horse Mountain Resort, with over 3,700 feet of variety, there's downhill hardcore single tracks with multiple berms, jumps and wooden features as well as lessons and green trails offered for beginners!
Featured Vacation Package – Bike & Stay and Save 10%
Save up to 10% on your lodging with combining it with mountain biking tickets.
Book online
Fernie, B.C
One of the largest Bike Parks in the region with a recent focus on progression makes Fernie Alpine Resort's bike park a favourite among the biking community, being voted in the Top 5 Bike Parks in Canada for the last 2 years.  Offering cross country, downhill, single track and dual slalom trails accessible from the base area or chair lift as well as a number of green trails and lessons for any ability level to learn the sport or brush up on skills.
Featured Vacation Package – Stay longer & get 2 nights FREE
Stay at Lizard Creek Lodge or Fernie Slopeside Lodge for 7 nights and get 2 FREE, nights start at just $27 USD!!
Book online
Kimberley, B.C
There are 'trails for everyone' in Kimberley, 3 different trail networks offer everything from beginner riding with gentle, scenic cruises to some adrenaline pumped more difficult trails.  With the newest improvements of the trails, the North Star Rails to Trails network is a 25 km long multi use track perfect connecting Kimberley & Cranbrook, perfect for families looking for an afternoon spent exercising outdoors in one of the sunniest places in B.C!
Featured Vacation Package – Stay longer & get 2 nights FREE
Stay at Trickle Creek Lodge for 7 nights and get 2 nights FREE, nights start at just $27 USD!!
Book online
Call our reservations specialists at 1-800-258-7669 or explore our website to decide where your Canadian summer vacation will be this summer.   From slopeside boutique hotels to condos and resort homes, package your accommodation with activities for further savings.
-30-
For more information, please contact:
Matt Mosteller
Senior VP Marketing & Resort Experience
Resorts of the Canadian Rockies
[email protected]
Twitter – @PowderMatt • Powder Matt's Blog  • Powder Matt on Pinterest • Powder Matt on Google +