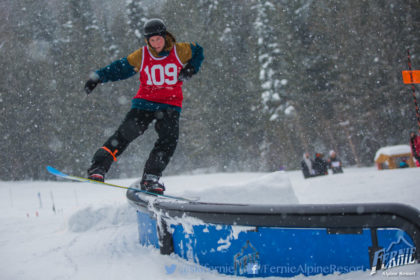 Calling all adrenaline junkies, fun seekers, and anyone who's up for a little competition! Why not join us on February 9th for an event that'll have you hitting the rails in style? That's right! The Raging Elk Kinky Rail Jam is back, and this season we've made it even better with some exciting changes. So keep reading for all the details on our epic showdown in the rail park!
Now you're probably wondering what we've done to change things up this season… We are excited to be announcing that the winners of each category will receive CASH prizes! You heard us right! The more entries into our jamming competition, the bigger the rewards. But we haven't stopped there, competitors also have the opportunity to win some sweet draw prizes.
So how does it work? The competition is set in Jam Style, meaning instead of a specific number of runs, competitors have a set amount of time to showcase their best tricks. Hit the rails and boxes as much or as little as you want, as each run is, but only your best run is counted.
Why sign up for the Rail Jam? To answer that question we went to our resident Rail Park Attendant, James Rotor. According to James,
"The rail jam is all about trying to bring the park culture back to Fernie, to push one another to be better riders, both snowboarders and skiers alike… I competed in my first rail jam last year, I've remained friends with most of my fellow competitors, and we continue to push each other in our riding today… The name of the game is fun!"
The competition is open to both snowboarders and skiers, and the categories include Men's Ski 16+, Men's Snowboard 16+, Grom Men's Ski 15 and Under, Grom Men's Snowboard 15 and Under, Women's Ski, and Women's Snowboard.
Waivers are required for all competitors, and any competitor 15 and under must have a parent or guardian sign their waiver. Helmets are cool, which is why they are absolutely mandatory for this event.
Competitors can also receive 20% off their left ticket the day of the event.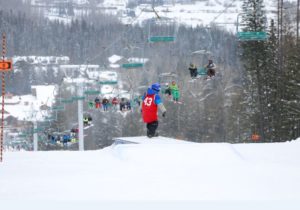 To sign up for our best Raging Elk Kinky Rail Jam yet, head to the Daylodge between 9:00am and 10:00am the day of the competition. The Rail Park will be open from 9:00am to 10:30am for practice, with a mandatory competitor meeting in the park at 10:45am. Then get your jam on at 11:00am when the competition begins. Don't forget to head back to the Daylodge at 3:30pm for the Awards Ceremony.
For more information please visit our Facebook event.