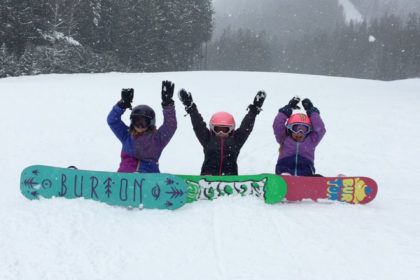 Well winter just won't stop this year will it?  In light of Mother Nature's snow-generosity, we've decided to extend our spring ski dates and hours to include all next week – meaning we'll be open straight through to Sunday April 15th!  Most services will be running, with terrain dependent on conditions.  For the latest info be sure to visit our Snow Report page or RCR App daily.
Don't miss our on our epic closing weekend on April 14th & 15th – with our annual Powder, Pedal, Paddle Relay race and featuring a live outdoor concert by Sloan with special guest openers the Velveteins on Saturday.  Followed by our Slopesoaker on Sunday and BC/DC for another great season send off!
More information can be found on our Facebook page or online events calendar.
Hours & Services for April 9th – 15th;
Lifts
Open Daily 9am – 4pm
Elk Chair
Deer Chair
Bear Chair
Boomerang Chair
Haul Back T-Bar
Mighty Moose
Terrain
Lower Mountain, Lizard Bowl and Cedar Bowl  (Based on conditions)
Ticket Pricing
Adult; $79.95 – full day, $63.95 – half day
Senior: $63.95 – full day, $50.95 – half day
Youth: $59.95 – full day, $47.95 – half day
Child: $31.95 – full day, $25.95 – half day
Double Discount Days for Loyalty Cards in effect!
Winter Sports School
Late Season Private Lessons – $99 for 2 hour private for 1 person, (additional person is $24.75)
Beginner Half Day Level 1 Telus Learn to Ski /Ride (offering in mornings only).  First time skiers & riders only.
Resort Childcare Centre
Open daily from 9am – 4pm
Sports Alpine Retail Shop
Open daily from 8:30am – 4:30pm
Sports Alpine Rental & Repair Shop
Open daily from 8:30am – 4:30pm
Slopeside Coffee & Deli
Open daily 8am – 2:30pm
Daylodge
April 9-13 – Closed
April 14 & 15 – 11:30am – 4:00pm
Griz Bar
April 9-13 – Open 12pm – 6pm
April 14 – Open 11am – 8pm
April 15 – Open 11am – 6pm
Cirque Restaurant & Ice Bar (located in Lizard Creek Lodge)
April 9-13 – Breakfast (8am – 10:30am) / Dinner (5-9pm – bar opens at 4pm)
April 14 – Open 8am – 10pm
April 15 – Open 8am – 9pm
Legends Mountain Eatery
April 9-13 – 11:30am – 5pm
April 14 – Open 10am – 10pm
April 15 – Open 11am – 6pm
Bear's Den
April 9-15 – Closed
Mountain Pantry Grocery & Liquor Store
April 9-12 – Open 8am – 6pm
April 13 & 14 – Open 8am – 9pm
April 15 – Open 8am – 6pm
Lost Boys Café
Closed (Timber Side closed)