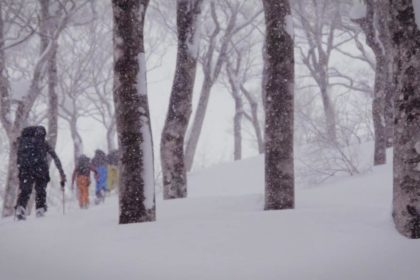 FOR IMMEDIATE RELEASE September 9th, 2015
Mountainfilm on Tour to Arrive in Calgary at The Gateway on October 21st
Calgary, AB, Canada – Mountainfilm on Tour brings inspiration and education about important issues to audiences around the world. The tour will soon visit Calgary at The Gateway on the SAIT Campus on October 21st with documentary films that will explore the themes connected to Mountainfilm's mission of exploring cultures, preserving environments and promoting adventure.
"We are stoked to not only share our passion for skiing and snowboarding but hopefully to inspire adventure in others.  Just like our guests inspire us with their amazing experiences in the mountain at Fernie, Kicking Horse, Kimberley and Nakiska." says Matt Mosteller, VP of Marketing and Resort Experience at Resorts of the Canadian Rockies.
As a special extra Season Passholder Member Benefit, Resorts of the Canadian Rockies is providing a limited number of free tickets for their members.  RCR Season Passholders will receive an email inviting them to register for their FREE ticket, if you have a season pass however do not receive any emails email [email protected] to request your link. Tickets can be picked up at the exclusive Season Passholders pre party at The Gateway at 5:00pm (show your season pass to get in).
Established in 1979, Mountainfilm is dedicated to educating, inspiring and motivating audiences about environments, cultures, issues and adventures. Working at the nexus of filmmaking and action, its flagship event is the renowned Telluride Mountainfilm festival, a four-day event held each Memorial Day weekend in Telluride, Colorado. The festival has attracted leading documentary filmmakers, artists, photographers, conservationists, mountaineers, scientists, journalists and explorers from around the world to engage in the festival's tag line of "celebrating indomitable spirit."  Mountainfilm on Tour shares a selection of the films from the annual festival with audiences around the globe and offers Mountainfilm for Students, a free educational outreach initiative for K-12 schools at tour locations. Year-round and worldwide, the tour reaches over 40,000 people on five continents.
The show begins promptly at 7:00 pm, doors open at 6:00pm. Mountainfilm presenter, Natalie Jones, will introduce the films and engage the audience in discussion following the films.
Tickets for Mountainfilm on Tour in Calgary go on sale September 12th and can be purchased through Ticketmaster online.  Tickets will also be available the day of the event at The Gateway. The cost for each show is $15 in advance or $10 if purchased on Sait Campus (student id required). See the complete playlist on the Facebook Event. Mountainfilm on Tour in Calgary, Alberta is hosted by Resorts of the Canadian Rockies and The Gateway at SAIT partnering with X92.9 and Kokanee.  PLEASE NOTE: this event is 18+, valid ID is required.
For more information feel free to contact Matt Mosteller, VP of Marketing & Resort Experience, Resorts of the Canadian Rockies.
Email – [email protected].