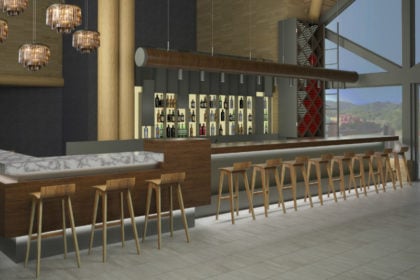 For Immediate Release: October 5th, 2015
 MAJOR RENOVATIONS UNDERWAY AT FERNIE ALPINE RESORT'S BOUTIQUE SKI IN/SKI OUT HOTEL
Fernie, BC – Fernie is a place of firsts. Years ago pioneering mountain guides like Bruno Engler discovered a powder paradise in the Lizard Range. Then in 1962, on land donated by Galloway Lumber, Fernie Snow Valley Ski Resort was born, a mom and pop ski hill guided by the vision of the legendary skiing couple – Heiko and Linda Socher.  In the years that followed the resort underwent an epic transformation from local powder hound's secret to world class Fernie Alpine Resort, with the addition of new lifts and accessing of five alpine bowls that built on the resort's already existing appeal for skiers and boarders wanting deep snow and steeps. But as the resort evolved, the developers paid close attention to the visitor experience beyond ski lifts and vertical -they wanted to ensure that a stay on the mountain was memorable, like an immersion in mountain culture. That was the simple but beautiful logic behind the creation of Lizard Creek Lodge, one of the first boutique ski in-ski out lodges in the Canadian Rockies.
The renovations will transform the gorgeous great room at the Lizard Creek Lodge into an even more alluring après ski venue. Some features won't change, like the expansive ceilings, tall windows with mountain views, and river rock fireplace with its roaring hearth that provides the architectural and design centerpiece for this spectacular space. So to will the devotion to a natural aesthetic that reflects Fernie's mountain heritage. Think rustic and chic, warm and welcoming – juts the kind of place to settle into your weekend getaway or spend a few hours of après ski luxuriating over a fine meal drawn from a menu grounded in regional inspiration but global in vision and creativity.
On one side of the hearth, a new bar will have seating for 110.  On the other side, a long bar will entice skiers, boarders and other winter enthusiasts seeking shelter from the cold and a chance to unwind over a casual après ski cocktail and snack.  There will be space for 110 dining guests – reservations recommended, of course.
When the folks at Fernie broke ground to build Lizard Creek Lodge 15 years ago, they realized that ski in-ski out didn't have to be cookie cutter condo or resort hotel. Instead it could be boutique, with a great room of tall windows and ceilings that is a warm reflection of the winter mountain world skiers and boarders gather to celebrate. That tradition continues but when the lifts start turning this season, it will be tradition with a twist – a Fernie twist.
Visit our website for more photos, the latest updates and to track the renovation progress!
About Fernie Alpine Resort & Resorts of the Canadian Rockies Inc.   
Fernie Alpine Resort is one of the Top 5 Ski Resorts in North America, and is home of up to 37 feet of legendary powder each winter, the "Griz" and more.   Fernie Alpine Resort www.skifernie.com is part of the Resorts of the Canadian Rockies Inc. (RCR) family. Proudly Canadian, Resorts of the Canadian Rockies Inc. (RCR) is the largest private ski resort owner/operator in North America, owning six ski resorts across Canada, including Nakiska Ski Area in Alberta; Fernie Alpine Resort, Kicking Horse Mountain Resort and Kimberley Alpine Resort in British Columbia. RCR also owns and manages a number of hotels and golf courses, including Trickle Creek in Kimberley, and Wintergreen Golf and Country Club in Bragg Creek. RCR aims to provide each and every guest The Ultimate Experience.
-30-
For more information, please contact:
Matt Mosteller • [email protected]
403-209-3323
VP of Marketing & Resort Experience, Resorts of the Canadian Rockies