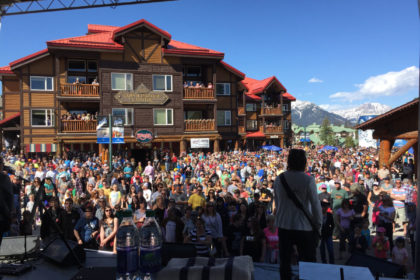 For Immediate Release: January 19th, 2017
Fernie Alpine Resort Announces 9th Annual Fernival, Promises Biggest Festival Yet
Fernie, BC – It's the announcement you've been waiting for, to hear who will be featured on our closing weekend, this April 15th & 16th at the 9th annual Fernival Festival, the biggest free outdoor concert in the Canadian!
Kicking our Saturday off will be the Backroad Traveler Band!  This Calgary based band is well known for putting on a high energy show in bars and at festivals including the Calgary Stampede.  They'll be bringing us the classic rock we all love to hear at Fernival, check them out rocking our plaza with covers by bands such as Tragically Hip, Tom Petty, ZZ Top, Creedence Clearwater Revival, Kid Rock, Bryan Adams, John Cougar, Rolling Stones and even more!
After the Backroad Traveler Band wraps up their set get ready for a DJ to keep the Fernie stoke going throughout the afternoon, Skratch Bastid!  Over the past 15 years, Canada's own Skratch Bastid has been spreading his skills and name around the world, one sweaty crowd at a time.  Come check him out playing from our big stage in the plaza and get those bodies moving!
Wrapping our day up will be an epic performance by Wide Mouth Mason!  Known for putting on exceptionally crowd-pleasing shows, these critically-acclaimed musicians will be playing hits from their 20-year career, during which they have toured the world and built fan-bases throughout North America, Europe and even China.  Get ready to be blown away as Wide Mouth Mason's live performances are not easily described or captured; they need to be experienced!
Don't go home yet!  NEW for this year's Fernival festival is the addition of Sunday Funday, featuring another free Fernival concert by BC/DC in the afternoon at our big stage in the plaza.  Give a rock and roll salute with this high energy, legendary live show that is sure to leave your ears ringing (in the best rock and roll way possible).  Plus don't miss the Slopesoaker competition, one of the best ski bum traditions enjoyed at ski resorts from all over and don't forget to make a donation to the Emily Brydon Youth Foundation.  Emily's foundation is a key part of supporting the youth in our community!

BOOK YOUR ROOM
Book your room for the weekend at Lizard Creek Lodge or Fernie Slopeside Lodge or by calling 1-800-258-7669.  View or book all our Hot Deals & Vacation packages online.
Official Website • Facebook Event Page
Facebook Page • Twitter • Instagram
-30-
For more information, please contact:
Matt Mosteller
Senior VP Marketing & Resort Experience, Resorts of the Canadian Rockies
[email protected] • Powder Matt's Blog  •  Twitter, Facebook & Instagram – @PowderMatt