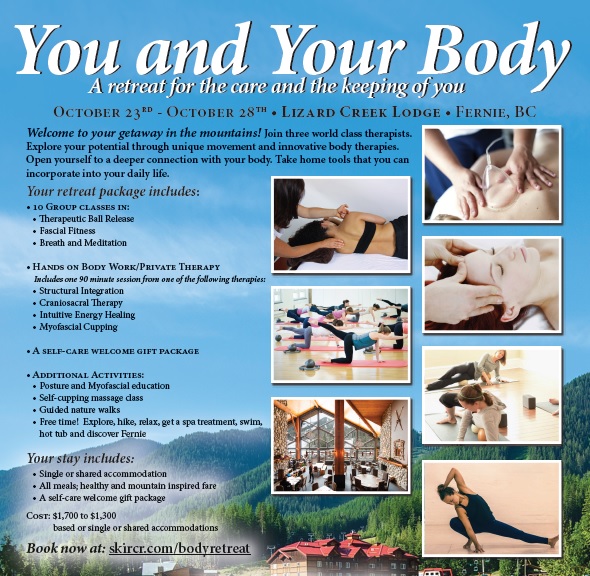 You and Your Body Wellness Retreat
A retreat for the care and the keeping of you
Welcome to your getaway in the mountains!  Join three world class therapists, explore your potential through unique movement and innovative body therapies.  Open yourself to a deeper connection with your relationship with your body.  Take home tools that you can incorporate into your daily life.
Your retreat package includes:
– 10 Group classes in:
– Hands on Body Work / Private Therapy: Includes one 90 minute session from one of the following therapies:
– Posture and Myofascial Education
– Self-Cupping Massage class
– Guided nature walks
– Free time!  Explore, hike, relax, get a spa treatment, enjoy Lizard Creek Lodge's mountainside outdoor pool & hot tub and discover Fernie!
– A Self -Care welcome gift package
– Five Night Stay at Lizard Creek Lodge: Single or shared accommodation
– All meals included: Healthy and mountain inspired meals at Cirque Restaurant in Lizard Creek Lodge
Cost: 
Single occupancy $1620,
Double occupancy $2590 (or $1295 each)
Single in shared Room $1295
Registration:
To register for the weekend click the "Book Now" button below:


Therapists:
Kathleen Keller – Movement Therapist
kellermethodpilates.com
Nadine Samila – Multi-Disciplinary Practitioner 
nadinesamila.ca
Ruth Major – Multi-Disciplinary Practitioner
centreforsofttissuepain.ca