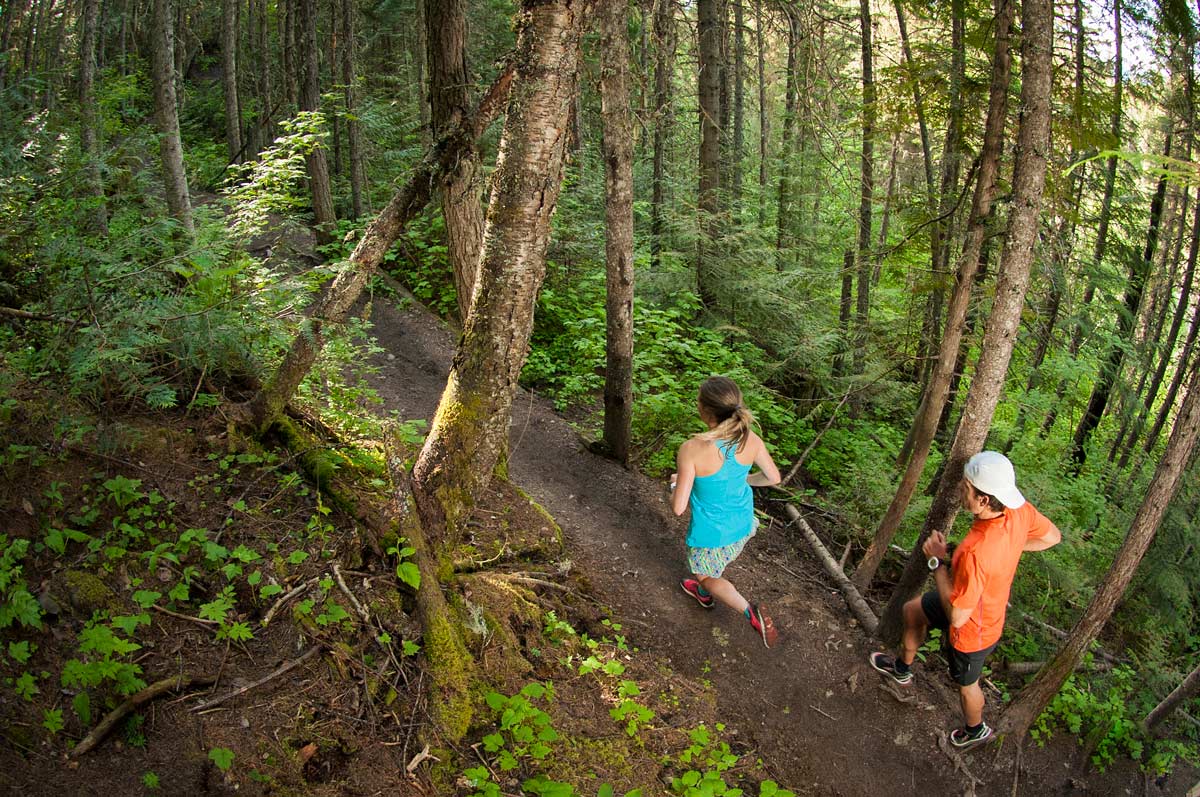 The North Face Trail Race Series
Join us at Fernie Alpine Resort for this bi-weekly trail run race series. 
Runners test your skills on the trails up at Fernie Alpine Resort for this fun trail race series.  Each race will be run on a different designated route and is open to all levels of trail runners.  Race routes with vary in length each week (deepening on the course) and are typically 5-10km in length.  All racers get to enjoy a post-race beverage at Cirque Restaurant and are eligible for prizes from The North Face!
All races are timed and runners will get their timed results at the end of each race.   After each race, all participants are entered into a prize draw for an awesome product from The North Face and Stag Leap Running Co (regardless of what place they finished in).  For those competitive racers out there don't fear… your standings still count towards the overall series title!  Competitors will earn points from each race based on their finish standings.  These points culminate and at the final race on August 29th, on top of our regular draw prizes, we will also give out Series Prizes prizes to the top 3 finishers in each category based off these point standings.   Racers must compete in a minimum of 3 races over the season to be eligible for the overall series title and points from each of the 4 races count, so the more races you do the better your chance of being the series champion!
Categories include
Open Male (19yrs+)
Open Female (19yrs+)
Youth Male** (18yrs and younger)
Youth Female** (18 years and younger)
Note: Minimum age for racers is 8yrs, but any racers ages 12 and younger must have an adult accompany and run with them on the course.
Registration takes place race day only and can be done in the Adventure Centre in the plaza.  Registration ends at 6:20 pm on race night.  The race starts at 6:45 pm.   All competitors must sign an Event Waiver and competitors ages 15yrs and younger must have their parent/legal guardian sign the waiver for them.
COURSE:
The race course will be announced the day before each race posted both on the Fernie Alpine Resort Facebook page and Fernie Alpine Resort Twitter Page (links below) so runners can see if it is a course they feel comfortable doing.  There is also a link below beside each race date.



Runners can come out to one race or come to them all.   Race dates are on:
ADDITIONAL INFORMATION:
What ability of trail runner do I need to be?
Runners should have at least intermediate trail running ability.  The trails involved with the races will be a combination of single track and mountain access roads so runner should have sufficient technique and endurance to deal with mountain terrain including elevation gain/loss and being able to run on uneven terrain with roots and rocks.  Some weeks will be easier and some weeks will be more technical.  We will post the course on Wednesday to give the runners an idea of the length of course.
What gear do we need for the race?  Will there be water on course?
All racers are asked to gear up as they would for any trail run they would go on.  Wear footwear and clothing that is appropriate for trail running and the weather/temperature.  We strongly recommend runners to carry water/use a hydration pack as there is no water or aid station along the course.  We also remind runners that our trail system is within local wildlife habitat and while our trail and patrol teams do regular trail checks and monitor wildlife activity, wildlife is constantly moving and there is always a possibility that you may encounter wildlife during the run as you would on any other trail within the town.  Make sure to make your presence known when running and if you normally carry or run with bear spray to continue to do so up here
Huge thanks to our race partners: The North Face, Stag Leap Running Co and Cirque Restaurant