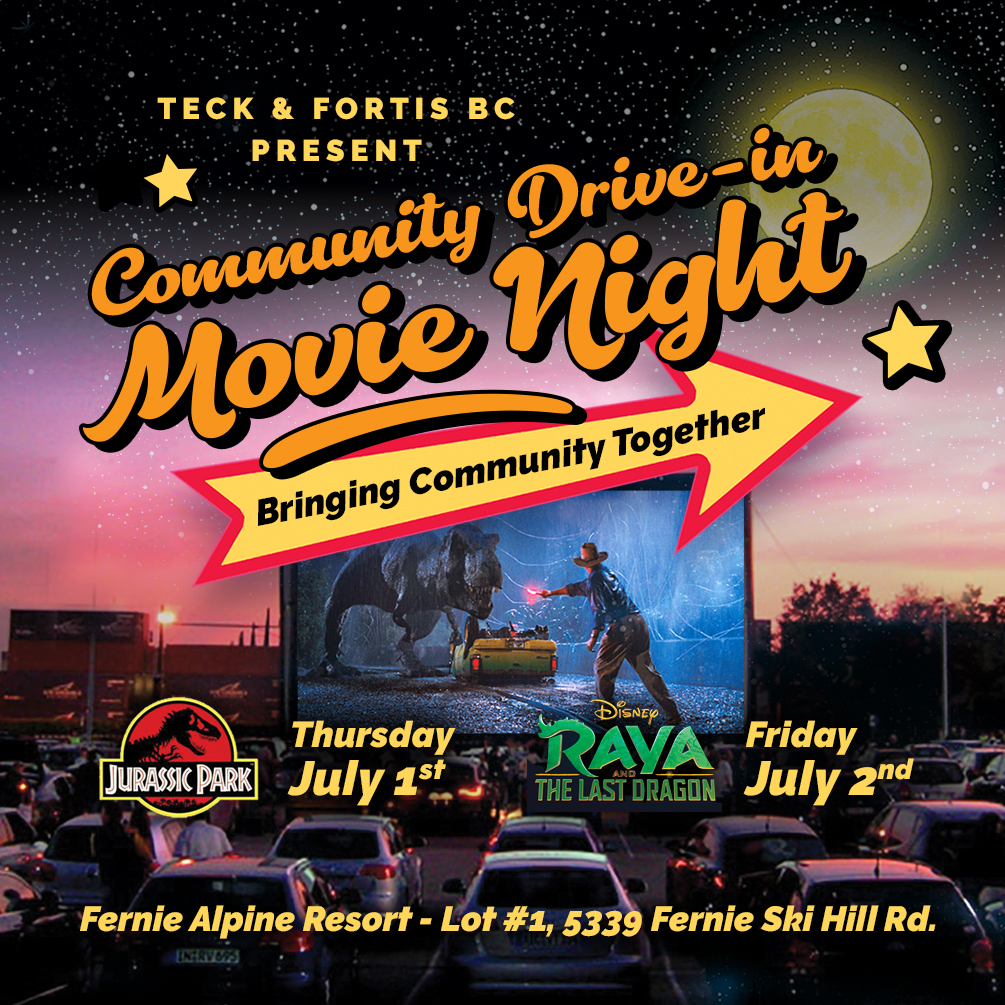 Teck & Fortis BC present Community Drive-In Movie Night – Fernie 2021
Teck saw a need to bring the community safely together during the pandemic. What better way to bring them together safely than enjoying a drive-in movie!
Teck & Fortis BC have teamed up with Fresh Air Cinema to offer a Drive-In Movie Night for the community on July 1st & 2nd.  The drive-in movie screen will be set up in Parking Lot #1 at Fernie Alpine Resort.
The gates will open at 9pm sharp and the movie will begin at approximately 10pm (once it gets dark).   Thanks to Teck, every car will receive a (big) bucket of popcorn, pop/water, and a package of licorice from the Vogue Theatre to enjoy while watching the movie.
Tickets are required for the event – note tickets are per vehicle, not per person (1 ticket per vehicle).  Tickets are being sold by donation with 100% of the ticket sales going to the Fernie Senior's Centre.  The suggested donation is $20 per car, however, you can purchase a ticket for any amount that you would like to donate.  Tickets are limited and only available online.   We anticipate they will sell out so get yours early.
Tickets go on sale on June 18th at 6pm on Event Brite. 
Ticket Link:
July 1st – https://www.eventbrite.ca/e/teck-fortis-bc-presents-community-drive-in-movie-night-fernie-tickets-154765286137
July 2nd – https://www.eventbrite.ca/e/teck-fortis-bc-presents-community-drive-in-movie-night-fernie-tickets-154765504791
Movies:
July 1st – Jurassic Park
Trailer:

July 2nd – Raya And The Last Dragon
Trailer:

SOCIAL DISTANCING POLICIES
All policies outlined reflect the guidelines provided by the Provincial Health Authority and are subject to change as social distance guidelines change. Please check back on the event day for the most up-to-date policies.  Those not obeying the policies will be asked to leave immediately.
– Tickets must be acquired online. You will not be able to purchase tickets at the gate.
– Cars only. No bike or walk-ins allowed.
– We strongly encourage our guests to come to the event with only those from their same household.
– Guests should stay in their vehicle unless they need to use the washroom.  No mingling allowed between cars/people. 
– We encourage guests to use washrooms before attending the event.
– There will be washrooms at the venue but please ensure that you go to the washroom by yourself unless accompanying a minor.
– Masks must be worn in the washroom and walking to and from the washroom.
– Please obey the washroom occupancy sign limits.
– When queuing in line for the washroom, please line up a minimum of 6′ (2m) apart.
– Guests will need to be in their vehicles in order to watch the movie. Audio will be streamed through an FM radio station, so there will be no additional outside sound. This means no sitting outside the car on lawn chairs or backing your vehicle up.
– The number of vehicles allowed at the venue will be limited, so we encourage you to acquire your tickets early. If you do not have a ticket, you will not be allowed into the venue.
– If you feel ill or were outside of Canada 14 days ago or less, stay home!
– No Drugs, alcohol or smoking at the event.
– There will be no additional food or drink for sale at the event on top of the popcorn package Teck is providing.  If you require any additional food or drink please bring your own.
– When arriving at the venue, please ensure you have your printed ticket in hand and be prepared to show this to the check-in agent as we will need to scan the barcode to check you in.
– If this event is canceled for any reason, we will do our best to reschedule it. However, there will be no refunds for any donations that are made.
– Anyone who breaks these rules, will be asked to leave immediately without refunds.
If you acquire a ticket but your plans change so you cannot attend, please give us as much notice as possible so that we can give your ticket to someone else. There will be no refunds as we are raising money for charity. Because we are restricted to a set limit, we just want to make sure all spots are being used.