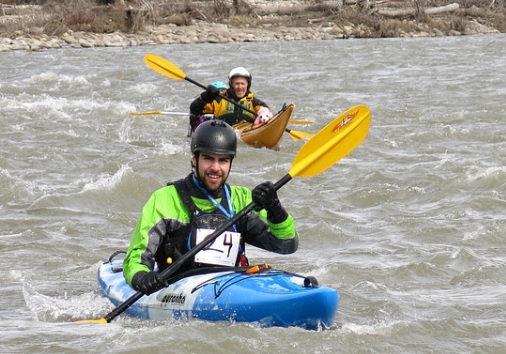 Raging Elk Powder, Pedal, Paddle Relay
2018 RESULTS HERE: https://skifernie.com/wp-content/uploads/2018/04/Raging-Elk-PPP-RESULTS-2018.pdf
A Fernie Tradition that has been going strong since 1984!  Individuals or teams of 2-5 people ski, bike, paddle and then run in a fun (yet competitive) relay race, followed by a BBQ in the plaza and the Fernival main band (Sloan) this event is the perfect season ender!
There are fantastic prizes for the top finishers in each category as well as bonus prizes!  Costumes are encouraged as there are prizes for best costume, best theme, most creative name and more!
REGISTER HERE: https://skircr.com/product/raging-elk-powder-paddle-pedal-relay-race-saturday-april-15-2018/
Please note for online Team registrations: You must register and pay for the team as a whole (team members cannot register individually online) so be prepared with all your team members info before proceeding to online registration.
ENTRY FEES:
Early Bird (on or before April 10th) – $35+gst per person/team member
Late Registration (on/after April 11th) – $40+gst per person/team member
**Registration includes: entry to the race, event t-shirt and post race BBQ.  We strongly encourage all teams to register before April 11th as that helps us with our food order for the BBQ.
COURSE DESCRIPTION:
SKI – Top of Bear Express Chair, down Cedar Bowl & Cedar Trail to base area
BIKE  – From base area, through Timberline Subdivision to Highway #3, along Highway #3 to the town of Fernie. Turn right at the lights (4th Street) then take your next right onto 6th Avenue.  Head straight along 6th avenue to the Elk River.
PADDLE – From Fernie, down the Elk River to the bottom of Ski Hill Road.
RUN  – From bottom of ski hill road run uphill, through the Timberline Subdivision, through Parking Lot #1 to the finish line in the base.
CATEGORIES:
Teams of  2 to 5 people (1 person per leg with the exception of the paddle leg which can be done by 2 people in the same boat – team members can do more than 1 leg):
– Men's Team
– Women's Team
– Mixed Team (must have at least 2 females)
– Family/Youth Team (must have at least 2 youth under 18yrs)
Solos:
– Men's Solo
– Women's Solo
**Minimum age to be able to participate in the competition is 12yrs old.
EVENT SCHEDULE:
Friday, April 13th
5:00pm – 9:00pm: Check-in, Late Registration & Bib/Bauble Pickup @ Daylodge
**We encourage all teams to check in on Friday if possible (then you can sleep in Saturday and just show up at the competitors meeting at 10am!).  Online Event Waivers are available (note any competitor 15 yrs of age and younger must have a parent legal guardian fill out the waiver).    If all team members are done online then just 1 person has to show up at check in to pick up their bibs and t-shirts!
Online Event Waiver Link – https://passes.skircr.com/waivers-special/signup.aspx
Saturday, April 14th 
8:00am – 9:30am: Bib/Bauble Pickup @ Daylodge.  NOTE: All teams MUST be checked in and have all their team member's waivers signed BEFORE 9:30am and NO new registrations allowed on race morning!
10:00am: All Competitors Meeting (Mandatory) @ Daylodge/Village Plaza
11:00am: Race Start @ Top of Bear Chair
12:00-1:00pm (approx) – racers reaching finish line
5:30pm (approx): Prize Presentation @ Plaza – Main Stage (Prize presentation will be approx 20min after the Sloan Fernival performance ends)
The reason this event is always such a success is due to hard work and dedication from community members and volunteers! If you're interested in volunteering for the PPP (you'll get a t-shirt and free BBQ lunch WOO-HOO) shoot Paige an email at [email protected]! Thanks in advance to all you awesome volunteers out there!
EVENT RULES:
Helmets are
MANDATORY
for all ski & bike stage competitors
Life jackets are
MANDATORY
for those on the paddle leg and paddlers must be wearing their life jacket (not good enough to just have it in the boat)
Competitors must supply all of their gear (including canoe/kayak) and ensure their gear is in good condition.
For a full list of event rules please click the link below:
PPP RULES
Course Map:
CLICK HERE FOR THE PPP MAP
A huge thanks goes out to our title sponsor: Raging Elk Hostel & Kodiak Lounge….spend a night, not a fortune at Fernie's premiere hostel or enjoy a cold beverage in the cozy Kodiak Lounge.  For more information visit their website at http://ragingelk.com/
Thanks to our communication sponsor this year – Solcomm Technologies a proud community supporter!