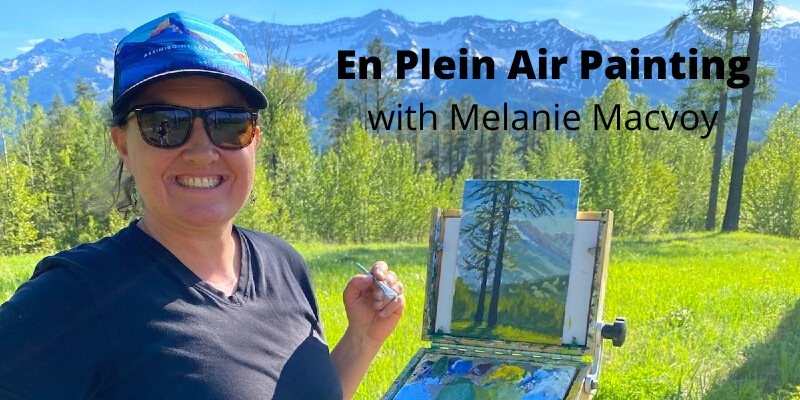 En Plein Air Painting Workshop 2023
Fernie Alpine Resort is proud to partner with the Fernie Arts station to host:
En Plein Air Painting at Fernie Alpine Resort with Melanie MacVoy 
An introduction to Plein Air Painting with artist demos and one on one instruction. No previous experience necessary and all abilities welcome. This is meant to be a fun day exploring the benefits of creating art outdoors.
Be prepared for a light beginner hike!
$99 for the full day includes a lift ticket for the Elk Chair.  Registration is being done through the Fernie Arts Station.  Click the button below to go to the Arts Station event registration.

Day Plan 
9:00 am – Meet at Fernie Alpine resort Base area (outside the ticket office)
9:10 am- Set up at the Base for an artist demo on sketching and sketching session
10:15am- Take the chairlift to the Bears Den. Walk up to the Wedding platform for an artist demo on painting and painting session.
12:30 pm – Break for lunch
1.30 pm – Walk the Boom trail to set up for another artist demo and painting session at the top of the Haul Back or set up at Bear's Den depending on time and weather.
4-4.30pm – Take the chairlift back down the mountain.
Suggested Materials List- remember to keep it easy to carry for hiking as well as for heading up the lift.
Art Supplies 
You may use whichever medium you feel comfortable painting with eg. acrylics, oils, watercolour etc. – Melanie will be painting with acrylics or gouache
Small canvas panels or canvases (6×8, 8×10), or paper taped on a small board
A pochade box or portable easel (something that folds up and can be put in or attached to a daypack)
Palette (wood, plastic)
Paints – At minimum bring a primary of each colour plus white.
Bring a warm and cool primary of each colour plus white (paint is heavy, don't bring too many colours)
 Melanie uses a small 6" x 8", air tight fishing tackle box with the following colours already squeezed out into it:
▪ WARM: cad. yellow medium, cad. red, ultramarine blue plus burnt sienna, burnt umber
▪ COOL: lemon yellow light, alizarin crimson, cobalt blue, phthalo green, dioxine purple
Brushes – again you don't need too many but an assortment from large to small
o Melanie uses a 1" flat, 1⁄2" angled and a small pointed brush for details
Water and water container
o For example; a collapsible dog bowl, water bottle and empty water bottle to dispose of contaminated water (or thinner)
Rags or paper towels
Small sketch pad and pencil, pen or marker
Small Camera or Smartphone
Plein air umbrella (optional)
Personal Items 
Raincoat (optional)
Bug spray (optional)
Bear spray/bell (optional)
Good walking/hiking shoes
Water for the day
Backpack
Hat
Sunglasses
Hiking pole (optional)
Packed Lunch & snacks- limited lunch and snacks available at the Bears Den
Melanie has a BFA in Fine Arts and has been painting with acrylics for over 30 years.
She regularly paints outdoors as an integral part of her artistic practice and has previously taught outdoor painting workshops through Fernie's Arts Station at Island Lake Lodge and Fernie Alpine Resort. (You may have even seen her out painting on one of Fernie's trails!)
Melanie learned how to paint outdoors from other like-minded and respected professionals through taking workshops and going on trips in some of Canada's most iconic landscapes such as Jasper National Park, Lake O'Hara and The Bugaboos.
Studying from life enables artist's to loosen up and become more decisive while honing their observation skills.
Most importantly, Melanie's goals for participant's are to relax, take in the sights, sounds, smells of their surroundings while being creative and in the moment.
With no pressure!
Melanie's original paintings can be seen in person at Elevation Gallery in downtown Fernie or online at www.melaniemacvoy.com or @melaniemacvoy on Instagram.
We are looking forward to having you along for a great day!
For more details visit the Arts Station Event – https://theartsstation.com/events/#!event/2023/8/15/en-plein-air-painting-with-melanie-macvoy