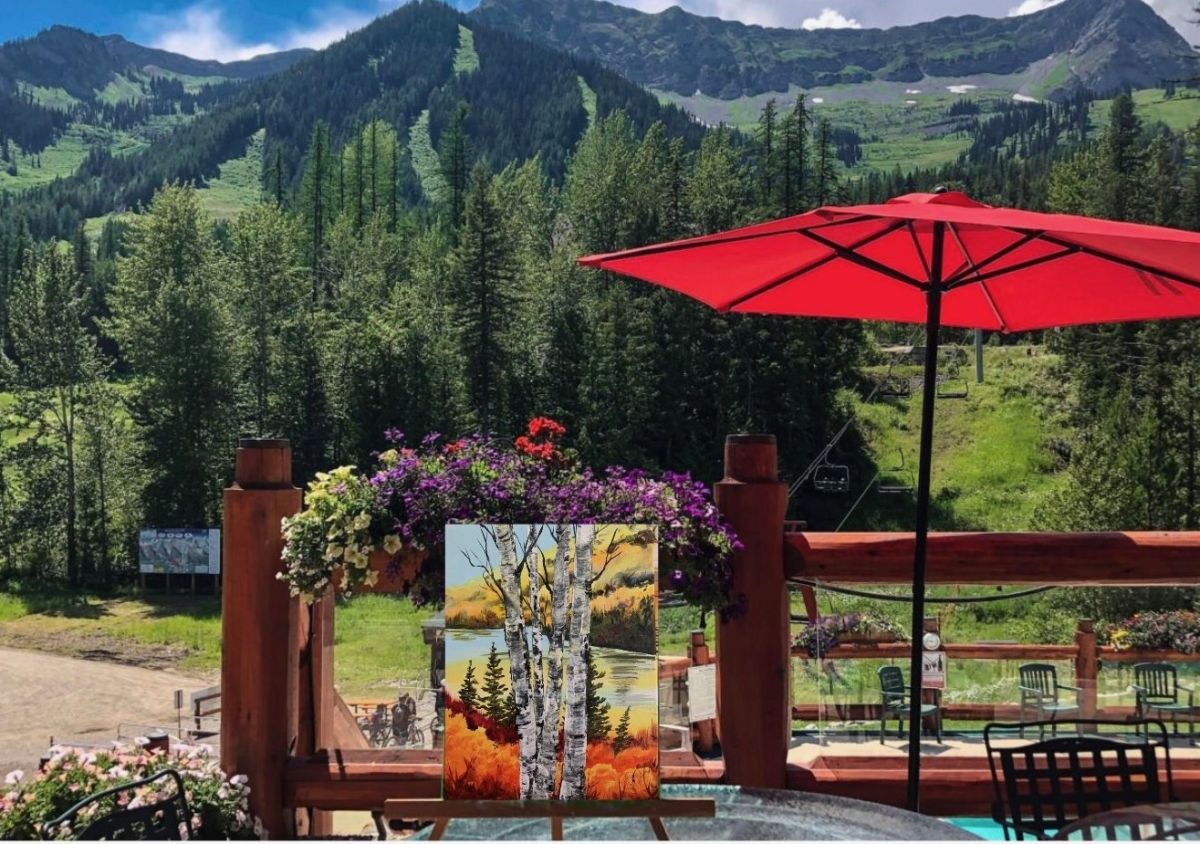 Paint 'N Sip at Cirque Restaurant 2021
Paint a beautiful fall masterpiece!
Gather up some friends and join us for a Sunday afternoon at Cirque Restaurant, letting your creativity flow and enjoying a glass of wine (or beer).
Artist, Sue Hanlon will walk you through with step-by-step instructions to help paint your very own masterpiece (see the image Sue will be guiding participants through below)
Details:
Time: 1pm – 3pm in Cirque Restaurant @ Lizard Creek Lodge
Cost: $55+gst per person
Event Cost Includes:
– Guided lesson by a local artist Sue Hanlon
– All necessary paint supplies
– A glass of wine or draft beer
Registration:
Registration for this event is done per table.  Tables can hold up to 5 people (so you can come and sit with up to 5 of your friends/family that are within your social comfort bubble).  If you are coming with friends/family, you must have 1 person book the table for the entire group.
Click on the button below to go to the registration page:

PLEASE NOTE: There are a limited number of tickets available for this event.  There is also a minimum number needed to run the event.  
EVENT SAFTEY:
We want to create an environment where participants can feel safe and allow your creativity to flow.  In keeping in line with current Provincial and Interior Health Region regulations and restrictions the following safety measures are in place:
– Event is sold per table.  Participants will only sit with the people that they have booked with (and are within their social comfort bubble).  We will not sit different parties together at the same table (even parties of 1 or 2).  Everyone that registers with have their own table with the number of people they have registered with.
– Limited number of tables available and tables will be distanced apart
– Everyone will have their own set of art supplies (there will be no sharing of supplies)
– Masks will be worn by the event staff, Cirque server and instructor
– As per current regulations, masks are required when entering Cirque Restaurant and when you get up from the table (ie. to use the washroom).  Once you are seated at your table, you can remove your mask if you wish.  For those that choose to remove your mask, we do require participants to put their mask back on if they require any assistance from the instructor who will come to your table.
– To align with current restaurant regulations, participants are not allowed to move from table to table.  If you wish to come with friends, please book your table together.
– Cirque Restaurant will not be open to public during the event, only staff and fellow participants will be in the restaurant.
Masterpiece Inspiration:
This is the painting our artist Sue Hanlon will be guiding you through to paint.