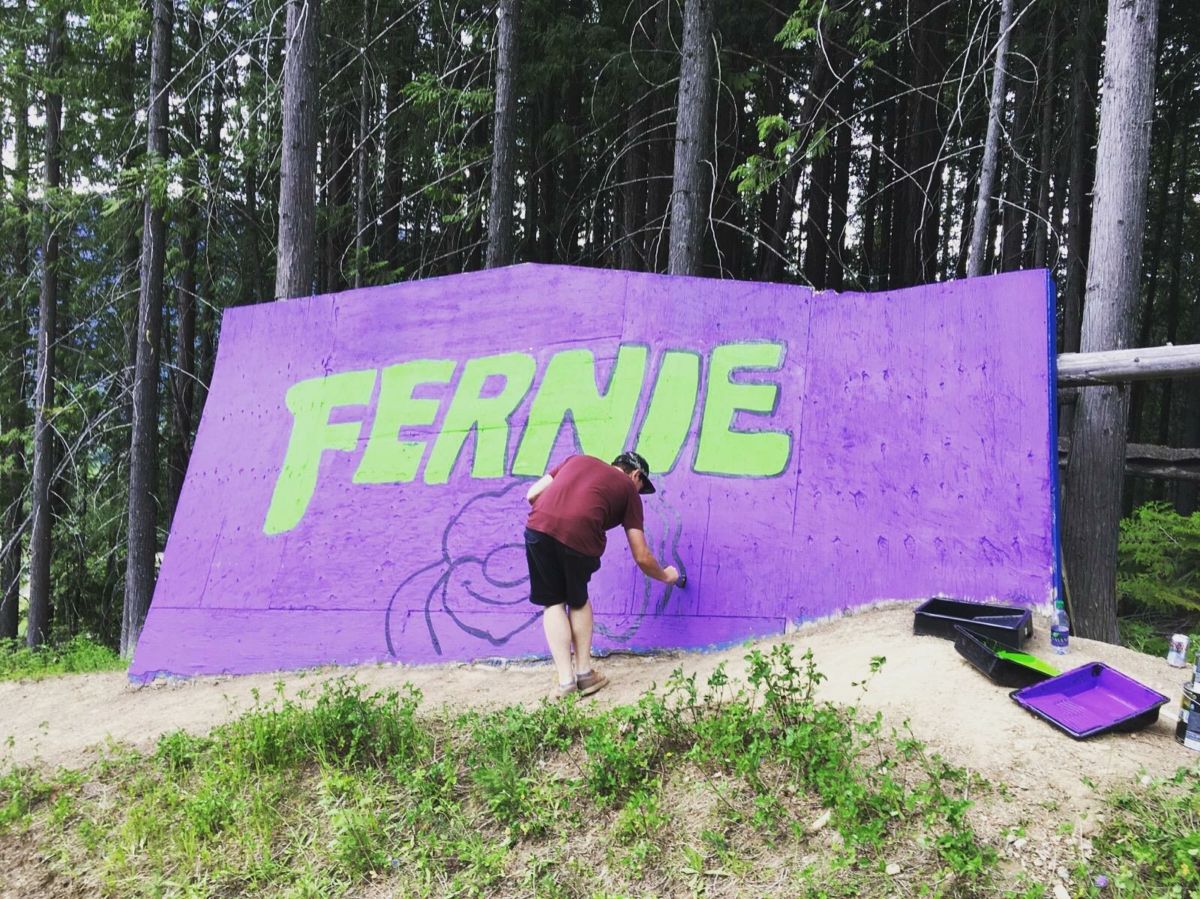 Live Rail Painting 2017
Join us in the plaza for this exciting live art event to help kick off opening day.
Calgary Artists Mark Kowalchuk and Joshua Ray Makorto will join a special local Elk Valley artists Drew Hampson and Dejana Lukac to paint some of our Rail Park features for next winter.  Watch these talented artists take a blank canvas and turn them into amazing works of art right before your eyes.  The action starts at 11am in the base area.  During your day of summer adventures head into the plaza where you can enjoy cold drinks and food on the Kelsey's patio while seeing these artists in action.  DJ Aurora will be spinning tunes starting at 1pm making it a perfect way to celebrate summer opening day!
Featured Artists:
Mark Kowalchuk:
Mark Kowalchuk is a Canadian illustrator and graphic artist based out of Calgary, Alberta, growing up in Thunder Bay, Ontario and attending art school in the east of Canada.  Studying and completing a degree in fine arts at Lakehead University and a 3 year diploma in design at George Brown College, Mark gained the experience and confidence to enter the print, sport and clothing industry in later years.  After starting the skateboard company 'Artschool' 6 years ago with Jeff Talbot his business partner, Mark has found success selling his own designs through a variety of skate shops in Canada and the USA.  Gaining career  momentum this year by having 2 snowboard designs being named in the Top 10 Snowboard graphics of 2014 by Snowboard Magazine, currently Mark focuses on his art, collaborations with other artists as well as clothing design with recent contributions to Volcom, YES Snowboards and Bombsnow Magazine.  Mark has also worked with musicians and bands such as Trouble Andrew and In Flames and recently went on tour with In Flames in Europe, live painting during their shows. Mark has been the featured artist for Snowboard Magazine and is currently the feature artist for this month's issue of Thrasher Magazine which is on stands now.
You can check out more of Mark's work on www.markkowalchuk.com and on Instagram – @artschoolskateboards and @claymanlimited
Joshua Ray Makorto:
Josh Makorto is a self taught artist originally from Revelstoke, B.C, now residing in Calgary, Alberta.   Josh's style is very crisp, clean and very pop art based. Heavily influenced by the art of "kaws" he likes to make every piece stand out using bright colours and dark lines. Recently, Josh created the album artwork for Justin Martin's "hello clouds" for Dirtybird records, which became #1 worldwide.  You can also see work from Josh in a brand new collaboration with Future Grownup. Josh loves to create things he would love to see…and hopes you will love what you see.
For more of Joshua's work follow him on Instagram @joshuamakorto
Drew Hampson:
Born & raised in Fernie, BC Drew Hampson has been influenced by the Snow Valley since a youngster.  Making art his main focus in the past years, Hampson has always had a hankering for creating something from nothing.  Mostly working with Black & White in his pieces, he is able to capture the eye with art very much how Black & White photography captures your eye. With simple bold designs, Hampson explains "I want to make that "Like…… Woah" reaction no matter if you like art stuff or not".   Hampson works hard to make art & creativity his future source of income.  Creating and developing the company alongside friend Josh Llyod, D.I.Y or DIE Supply Co. you are sure to see some of their designs around our quaint little town.
For more of Drew's work check out www.diyordiesupply.com or on Instagram @diyordiesupplyco  and @swompy.diyordie
Dejana Lukac:
Dejana Lukac, has been an artist all through out her life, attending performing arts schools in Calgary Alberta and graduating from the Alberta College of Art and Design in Fine Arts Drawing. Originally from the former Yugoslavia, her culture and family are a big part of her life, even though she immigrated to Calgary, Alberta as a baby.  After her degree she has had the opportunity to attend two different artist residencies in New Zealand, creating surfboard art, installation, and jewellery. Being a part of many markets and volunteering in gallery spaces in Australia has helped her grow as an independent artist today. Working in multi media and the exploration of different mediums and materials, her work is sold in markets and soon to be online. She does everything from silver jewellery, leather work, paintings, sculptures and more. Currently living and working in Fernie, British Columbia, Dejana's work is featured in Freshies Coffee Shop and will soon be shown in the local Sunday markets.
For more of Dejana's work check out lukacdejana.wixsite.com/dejanalukac
Hourly Schedule
Day 1
11:00am

-

5:00pm

Live Rail Painting

Location: Main Plaza
1:00pm

-

5:00pm

DJ Aurora Live

Location: Main Plaza