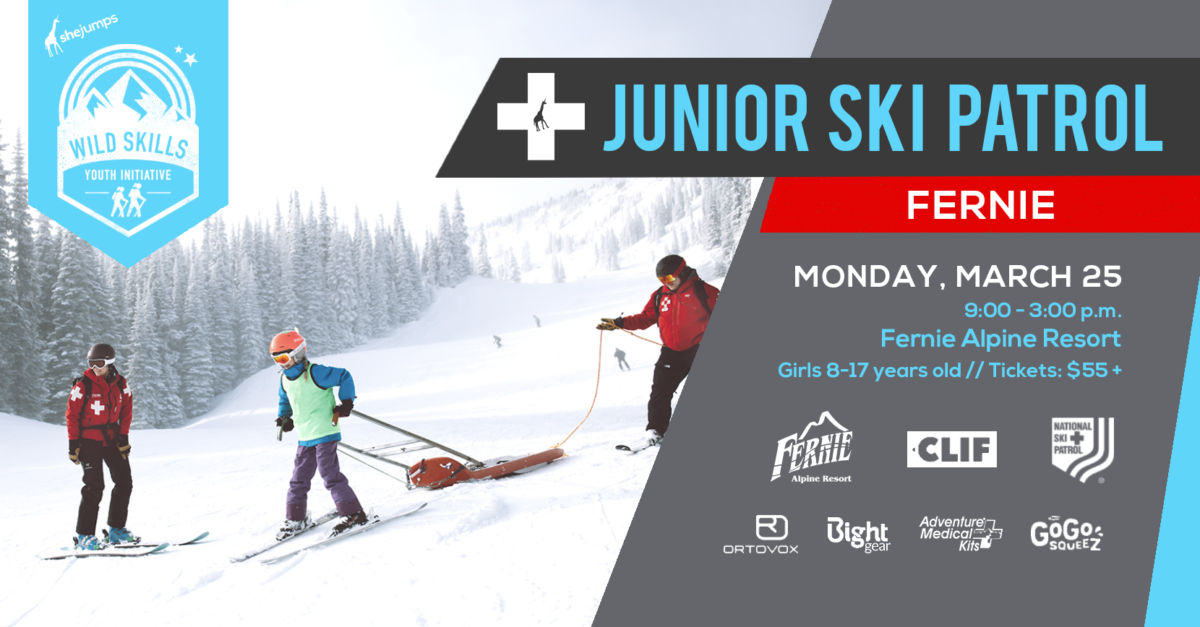 SheJumps presents Wild Skills Junior Ski Patrol
Join us for Wild Skills Junior Ski Patrol, a day camp on Monday, March 25th organized by SheJumps and Fernie Alpine Resort.  Young girls will learn about mountain safety and first aid while working with the strong women on Fernie ski patrol.
This SheJumps Wild Skills event is structured as a full day camp experience, parents/legal guardians drop the girls off, they are split into teams based on their skier ability and then rotate through different stations. Throughout the day girls are taught a range of outdoor skills that are utilized by ski patrollers to keep the mountain safe. Girls work alongside female patrollers and volunteers to learn more about the many facets of mountain safety and first aid.
The event is open to intermediate to advanced skiers/snowboarders ages 8-17 who identify as female.
LIMITED SPACES AVAILABLE!
Schedule for the Day:
On the day of the event, you'll check in at registration beginning at 9am, get your Wild Skills Junior Ski Patrol packet and meet up with your team for the day. Teams will consist of 1 ski patroller,  SheJumps volunteers and 8 girls of similar ski ability.
At 9:30am we start the day with an all teams morning meeting covering ski patrol basics, weather and our agenda for the day.
From there teams will break out and proceed to their various stations throughout the mountain. Stations cover topics including first aid, mountain safety, toboggan use, weather and avalanche basics & prevention. Along the way there is free skiing, surprises and games, of course!
A pizza lunch is included in the day and all teams will eat together. After lunch, all teams will proceed to the buried treasure hunt and Avy Dog Demo where handlers will educate teams about the CARDA avalanche dog program and demonstrate a burial rescue situation.
The afternoon will wrap up with free skiing, skills sessions and wrap up.
Timeline:
9:00am Registration Opens – Winter Sports School (WSS) Lunch Room: Located above the Mountain Pantry Grocery Store (access the lunch room via Parking Lot #2)
9:30am Morning meeting – WSS Lunch Room
10:00am On snow stations – various locations on mountain
1:00pm Pizza Lunch – WSS Lunch Room
2:00pm Buried Treasure Hunt – use your transceiver skills to find hidden treasure!
2:30pm CARDA Avalanche Demo
3:00pm Freeskiing and Patrol Skills Session
4:00pm Wrap Up – WSS Lunch Room
Age:
This event is for girls ages 8-17 who identify as female.
Skier/Boarder Ability Level: 
Due to the nature of the event and terrain being used, this event is intended for intermediate to expert skiers & snowboarders that are confident skiing/riding off the Timber, Whitepass and Bear Chairlifts.   Participants will be sent a email with questions regarding their ski/snowboard ability.
Registration & Cost:
Cost – $55 (including tax) which includes activities/lessons by ski patrol and volunteers, pizza lunch and lift ticket (if required).
REGISTRATION IS NOW FULL.  To be placed on a wait list please email: [email protected] with the participants name and age
Scholarships:
If you are unable to afford the cost, you can apply for a scholarship. Please contact Claire Smallwood at [email protected]
VOLUNTEERS NEEDED!!
Dedicate your time and efforts to making magic happen at this year's Wild Skills Junior Ski Patrol event at Fernie Alpine Resort on March 25, 2019.  Commitment involves reading volunteer information emails, online meeting (will be recorded as well) and attending the event from 8:30am-4pm (lunch included).
Volunteer positions available:
– Registration & Setup – arrive early & help get the day going
– Team leaders – Direct flow & keep group organized
– Event Floaters – Assisting with the flow of the event & activity setup
– Lunch crew – setup participant & volunteer lunches
Click on the "More Info" button below to access the Goggle Doc's form so we know how to utilize your skills best.


Junior Ski Patrol Mission:
To mentor young girls in mountain safety and first aid while working with the strong women of the ski patrol community.
Wild Skills Mission:
SheJumps' Wild Skills youth events teach young girls the survival and technical skills they need for outdoor adventuring.
SheJumps Mission:
SheJumps increases the participation of women and girls in outdoor activities to foster confidence, leadership, and connection to nature and community through free and low-cost outdoor education.  We welcome all women and girls (transgender and cisgender) as well as non-binary people who identify with the women's community.  For more information on SheJumps visit their website at: www.shejumps.org