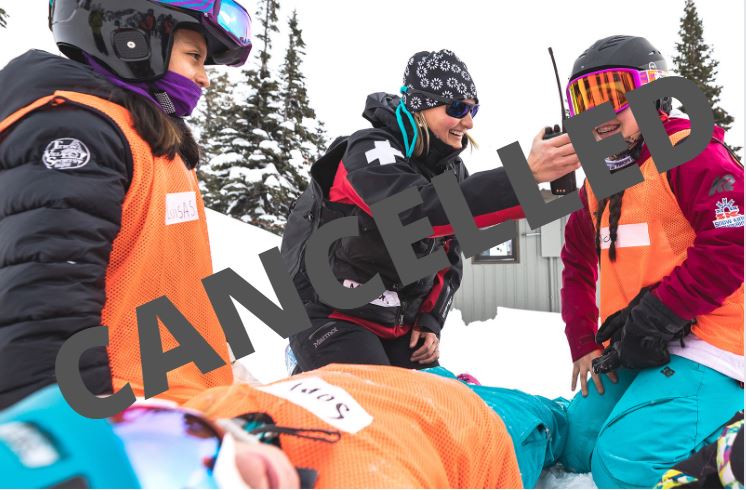 CANCELLED – SheJumps presents Wild Skills Junior Ski Patrol 2020
Due to the ongoing concern regarding COVID-19, the SheJumps Junior Ski Patrol event will be cancelled.  Please visit skifernie.com for further updates.
Join us for Wild Skills Junior Ski Patrol, a day camp on Monday, March 23, organized by SheJumps and Fernie Alpine Resort. Young girls will learn about mountain safety and first aid while working with the strong women on Fernie ski patrol.
This SheJumps Wild Skills event is structured as a full-day camp experience. Parents/legal guardians drop the girls off. They will be split into teams based on their ability and then rotate through different stations. Throughout the day, girls are taught a range of outdoor skills that are utilized by ski patrollers to keep the mountain safe. Girls work alongside female patrollers and volunteers to learn more about the many facets of mountain safety and first aid.
The event is open to intermediate to advanced skiers/snowboarders ages 8-17 who identify as female.
Age:
This event is for girls ages 8-17 who identify as female.
Skier/Boarder Ability Level: 
Due to the nature of the event and terrain being used, this event is intended for intermediate to expert skiers & snowboarders that are confident skiing/riding off the Timber, Whitepass and Bear Chairlifts. Participants will be sent an email with questions regarding their ski/snowboard ability.
Junior Ski Patrol Mission:
To mentor young girls in mountain safety and first aid while working with the strong women of the ski patrol community.
Wild Skills Mission:
SheJumps' Wild Skills youth events teach young girls the survival and technical skills they need for outdoor adventuring.
SheJumps Mission:
SheJumps increases the participation of women and girls in outdoor activities to foster confidence, leadership, and connection to nature and community through free and low-cost outdoor education. We welcome all women and girls (transgender and cisgender) as well as non-binary people who identify with the women's community. For more information on SheJumps, visit their website at www.shejumps.org.