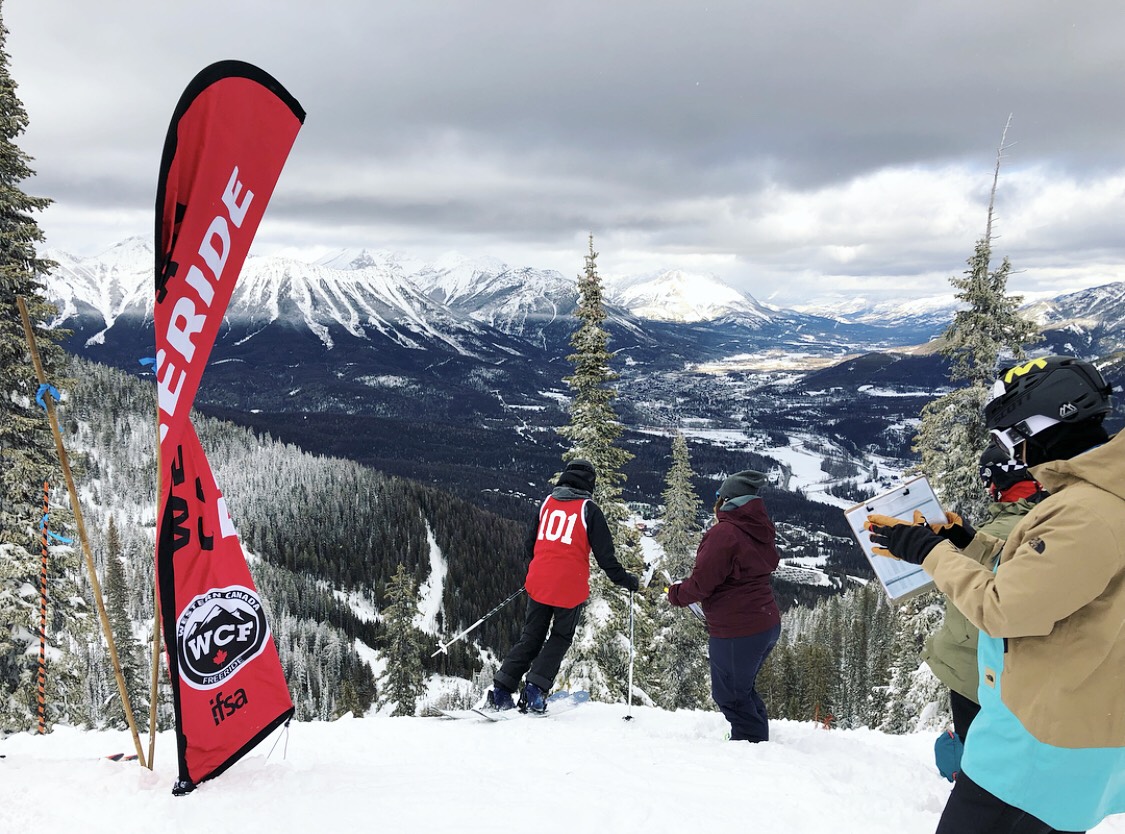 Jeep Junior Freeski Presented by Rossignol & Smith Optics
START LISTS, RESULTS, VENUE PHOTOS, and OTHER EVENT DETAILS PLEASE VISIT THE EVENT LANDING PAGE VIA THE LINK BELOW
https://skifernie.com/jeep-junior-freeski/
DAY 1 COMPETITOR PHOTOS – https://skifernie.com/freeski-day-1-competitor-photos/
Fernie Alpine Resort is excited to host the Jeep Junior Freeski IFSA Regional Event.  This event provides an opportunity for youth between the ages of 7 and 18 to develop and showcase their skiing skills in a fun and supportive environment.
The Jeep Junior Freeski Series is a part of Resort of the Canadian Rockies (RCR) ongoing commitment to providing active and healthy pursuits for youth. To align with the IFSA qualification standards, the event is open to skier's ages 7 to 18 featuring 6 categories: 7-11 /12-14/15-18 male and female. All age cut off dates are based on the age turned prior to December 31, 2021. Competitors will display their skiing skills on natural terrain while being judged on 5 categories – Line Choice, Control, Fluidity, Technique, and Style/Energy.
ENTRY FEES
$85+gst per competitor.   Limited spaces available.
REGISTRATION
Registration details and requirements like IFSA Membership info can be found on the IFSA website – https://www.freeskiers.org/events/ifsa-junior-events/event/1159-2022-fernie-ifsa-junior-regional-2.html

Registration will open on January 5th at 8pm MST and can be accessed via the button below:
The event is now FULL and a Waitlist has been started. 
To get onto the waitlist, click the registration link below.  Choose the appropriate category and select the waitlist option, click "Proceed to Registration" and fill out all the information for the athlete.  The site will ask for payment details and your credit card will be authorized for the registration amount, however, the credit card will not be charged unless the athlete is moved off the waitlist onto the participant list.  If a spot opens up, you will be contacted by our Events Team.
NOTE: To make registration a fair process – any open spots will be offered to the first name on the waitlist (and will be offered down the waitlist in the order that the waitlist registration was received).  We cannot substitute any athletes for open spots…ie. athlete cancels and wants to "give" their spot to a specified athlete.  This is not allowed, instead, the cancelled spot will be offered to the first name on the waitlist.

**IMPORTANT COVID INFORMATION**
Proof of full COVID-19 Immunization Record is required for anyone aged 12+ to access all lifts and indoor facilities at RCR Resorts, including Fernie Alpine Resort, this winter. Therefore, all Freeski participants ages 12+ (as of December 31st, 2021) and coaches MUST be vaccinated against COVID-19 and provide proof of vaccination in order to access the venue for the 2022 event.
Refer to our Know Before You Go section on our website for the most up to date resort COVID policies and procedures: https://skifernie.com/covid-19/winter/ 
SCHEDULE 
Friday, February 11th – Registration Check-In & Unofficial Inspection.
Saturday, February 12th – Qualifiers
Sunday, February 13th – Finals
Click the button below for the full event schedule and other event details:

OTHER IMPORTANT EVENT INFO
-All Athletes must complete an RCR Event Release Agreement – PLEASE READ!
Competitors aged 16 and older must complete an Event Release Agreement Waiver and can complete this agreement themselves.
Competitors aged 15 and under must have their parent or legal guardian complete both the Event Release Agreement Waiver AND the Parental Consent Agreement
All waivers can be completed online and can be accessed here: https://passes.skircr.com/waivers-special/signup.aspx
You can confirm you have completed the release agreement(s) when you receive an email copy of the completed agreement(s)
This year is it

MANDATORY

that the release agreements be completed online prior to registration/check-in.  Paper waivers will not be administered this year to reduce interaction at our registration/check-in areas
– All athletes MUST have a current IFSA Membership and your IFSA username and password to register. 
– Mandatory Equipment
Helmets and Back Protectors are mandatory
– Coaches 
As in years past, it will be mandatory for coaches to be in possession of a 2022 IFSA Coach Membership and hold a current L100 or L200 certification.
If you are unsure of your certification status, contact the IFSA Admin Team – https://www.freeskiers.org/contact.html
It is mandatory for coaches to also register on The Driven for any IFSA Junior events they plan to attend. There is no registration fee, however, registration is compulsory if coaches plan to attend. Coaches who HAVE NOT registered will not be granted ticketing benefits or access to the event or venue. Please help keep events running smoothly by completing registration on The Driven.
– Independent Athletes
Per IFSA regulations – IFSA Independent athletes (who do not train with a team or club) are *REQUIRED* to have an L100 Certified parent or guardian coach with an active 2022 Coach Membership. If you are an Independent Athlete without a coach and you complete the registration process, you will be removed from the roster and refunded (transaction fees cannot be refunded).
If you have any questions or require further clarity on the policy above please reach out to the IFSA directly – https://www.freeskiers.org/contact.html
– Lift Tickets
Competitors and coaches receive a 20% discount on lift tickets.  Discount vouchers will be given out at check-in with athlete packages
All competitors can receive up to two (2) discount vouchers for their family members.
Note: Proof of vaccination is required for ages 12+ to access chair lifts at Fernie Alpine Resort.  Please refer to our Know Before You Go Page for full details – https://skifernie.com/covid-19/winter/
– COVID-19
Please note the event is subject to change or cancellation due to fluctuating provincial health regulations surrounding COVID-19
Check back on this page often and emails (for registered competitors) for updates.  We will assess the COVID situation and government restrictions as we get closer to the event and changes may be made to parts of the event including (but not limited to) registration/check-in, competitor meetings, start areas, and awards ceremonies in order to comply with any restrictions and minimize interactions.
Thank you for your patience and understanding with the ongoing COVID challenges
SHOUT OUTS:
A huge thanks to our partners: Jeep, Rossignol, Smith Optics  Helly Hansen
Don't forget to check out the other events in the Jeep Junior Freeski Series at Kicking Horse Mountain Resort  and Kimberley Alpine Resort