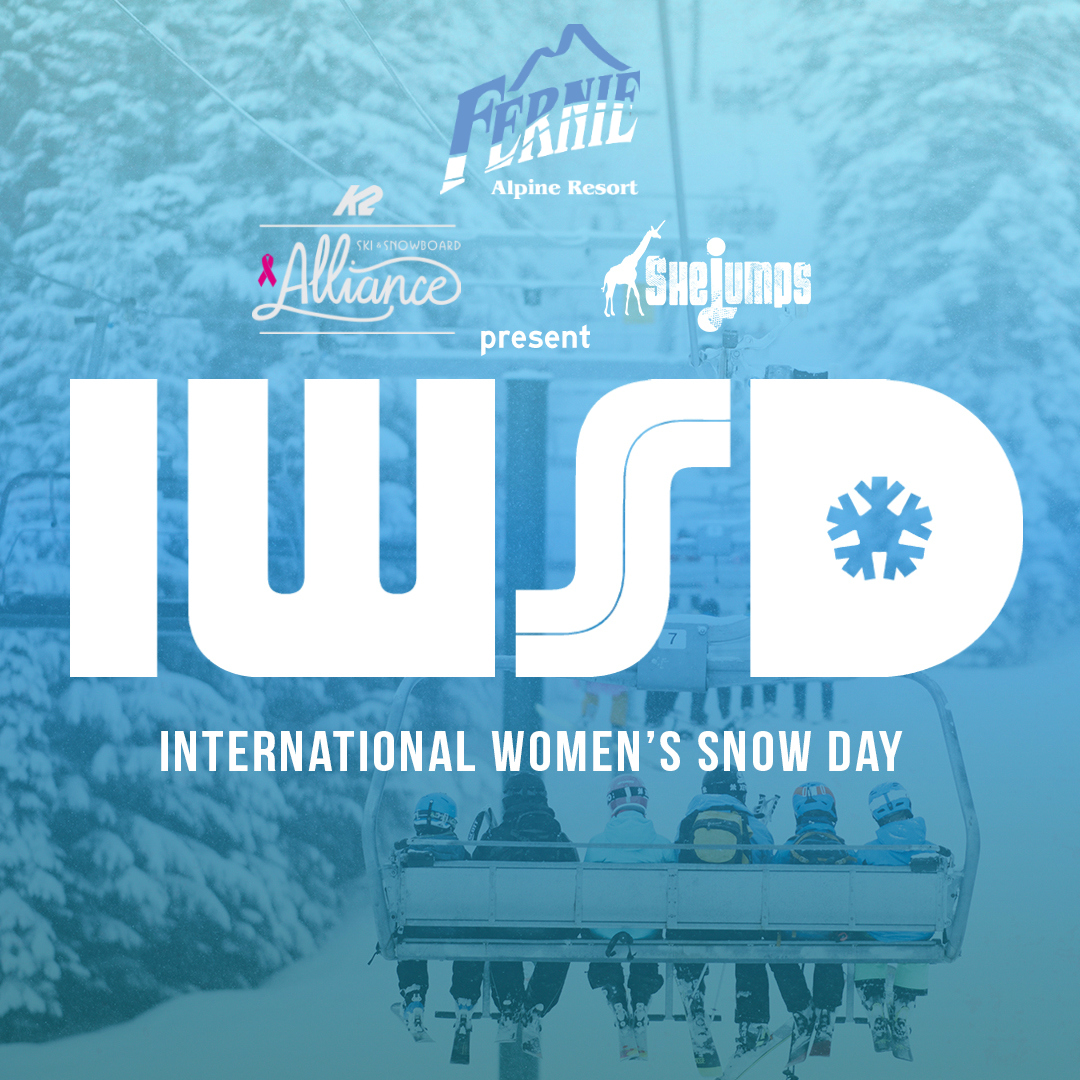 International Women's Snow Day presented by SheJumps & K2 Alliance 2019
Calling all ladies – On January 12th women from all around the world are invited to get together to celebrate adventures in snow and the power of female camaraderie by having fun on and off the mountain for the 6th Annual International Women's Snow Day (IWSD) presented by SheJumps & K2 Alliance.   The goal of IWSD is to encourage more women and girls to get outside: skiing, snowboarding, snowshoeing, sledding; friends, sisters, moms, daughters. Whatever brand you ride on, whoever you explore with, wherever you adventure—enjoy the fallen flakes with your community! It's your day so lap the park, take a lesson, hike for pow, rip groomers, teach a friend to snowboard, get together for après…Whatever you choose, we want you there!
Fernie Alpine Resort is proud to host an IWSD event with a number of activities to participate in during the day including:
• Morning Yoga/Stretch Session
• First Tracks
• She Jumps Women's Breakfast
• Mountain Tour
• Avalanche Education
• Women's Apres!
Come out to one event or participate in multiple events! It's your day…get outside with like minded women and choose your own adventure!
***Mountain Tour, Avalanche Education and Women's Apres are all FREE to attend!! ***
Morning Yoga, First Tracks & Breakfast have an additional cost and need to be booked in advance.  See full details below. 
Schedule & Activity Details:
7:30am – 8:30am:  Yoga/Strech Session @ Lizard Creek Lodge
 Loosen up and get ready to hit the slopes with this guided stretch/yoga session.  $10 per person (tax included).  Please pre-book your spot by calling 250-423-2406 (open daily from 8am – 5pm).  Bring your own mat or a limited number of rental mats are available for $2 (tax included).
7:45am – 9:00am:  Women's First Tracks Session
Hit the slopes before everyone else!  Join one of our female Winter Sports School pros for this guided First Tracks experience followed by our special Women's International Women's Snow Day (IWSD) Breakfast  (see breakfast details below).  All participants will meet at 7:45am at Slopeside Cafe and then depart and head up the lift at 8am for an hour of private turns.  At 9am head back down the mountain and over to Cirque Restaurant and join some more ladies for the IWSD women's breakfast!  Cost is $67 per person (+tax & breakfast grautity).  Pre-registration required.  Book your spot by calling 250-423-2406.
9:00 – 10:00am:  International Women's Snow Day (IWSD)  Breakfast Presented By She Jumps
Fuel up and get fired up!   Ladies, join us at Cirque Restaurant in Lizard Creek Lodge for a delicious buffet breakfast spread followed by an inspirational chat with Claire Smallwood, co-founder & executive director of SheJumps.  Claire will speak more about the organization she started and the vision for an inclusive, empowering future of outdoor participation.   SheJumps is an organization dedicated to increasing the participation of women and girls in outdoor activities to foster confidence, leadership, and connection to nature and community through outdoor pursuits.
So grab your girl squad or just come alone as this is the perfect chance to meet and connect with fellow ladies!  Following Claire's talk there will be a chance to break out into groups where you can meet fellow women with similar abilities and shred goals.  The purpose of the breakout groups will be to make new connections and hopefully new ladies you can go skiing and riding with.
The breakfast is open to women and girls of all ages and skill levels, so join us for some good food, be inspired to get outside with like-minded women and make some new friends.
Cost for breakfast is $18 + gratuity and tax ($21.24 +tax).  Please book your spot in advance through our online store by clicking the "book now" button below


Want to head out on the mountain after breakfast?  All ladies that attend the IWSD Breakfast can receive a coupon for a 20% discount a lift ticket for that day!  (You can even purchase your lift ticket at Lizard Creek Lodge that morning).
A little more about Claire – Claire Smallwood was born and raised in the Sangre de Cristo mountains of northern New Mexico, but has called everywhere from Alta, Utah to southern Chile, Jackson Hole, and even West Africa home at one point or another. Driven by passion for adventure and the outdoors, Claire co-founded SheJumps, a US-based nonprofit, at the age of 22 with Vanessa Pierce and Lynsey Dyer. With a mission to increase the participation of women and girls in outdoor activities, SheJumps hosts programs in 18 states and has created more than 12,000 new opportunities for women and girls to get outside in the past decade. With an eye on the future of the outdoors and accessibility, SheJumps focuses 50% of all youth programming towards underrepresented and under-resourced girls, working towards a goal of a diverse and inclusive outdoor community. When she's not at the helm of SheJumps, you can find Claire cooking—she worked as a private chef Alta, Utah for more than a decade. 
10:30am: Mountain Tour
New to Fernie Alpine Resort or not very familiar with the terrain at the resort.  Join us for this complimentary tour hosted by one of our female Winter Sports School Pros.  Free of charge.  Meet at the Winter Sports School Meeting Spot (located next to the Deer Chair load station)
2:00pm: Avalanche Education Session With Fernie Alpine Resort Ski Patrol
Curious about what what gear you need to have to go into the backcountry?  Want to practice your transceiver skills?  Meet one of our Female Pro Patrol at  our Transceiver Training Area (located at the bottom of the Heartland Run and 100%) for some key info on avalanche rescue gear and get a chance to practice using a transceiver to find buried signals!  Session is free of charge! Bring your own transceiver or if you don't have one, don't worry, patrol will have a few extras for you to use on site.
3:30pm – 4:30pm:  IWSD Apres and Wrap Up Celebration @ Slopeside Cafe
End your day in style by joining us in Slopeside Cafe to celebrate International Women's Snow Day!   We will have contests, prizes and food & beverage specials!  You won't want to miss this!
—————————————————————————————————-
SheJumps & Fernie Alpine Resort  believe in increasing diversity in the outdoors and providing ALL women and girls with the spark that will lead to a lifetime of outdoor learning and empowerment.  We welcome all women and girls (transgender and cisgender) as well as non-binary people who identify with the women's community to come out and take part in the days celebrations!  
For more information on the SheJumps organization visit their website – http://www.shejumps.org/