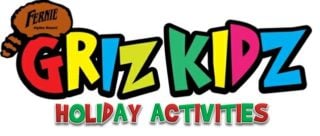 Griz Kidz Costume Party 2018
Fernie Alpine Resort will be a busy hub over the holiday period with plenty of activities for kids to take part in as part of our Griz Kidz Holiday program.
Parents drop the kids off for a costume party!  This fully supervised event is open to ages 6-12yrs.
Time: 6:30pm – 8:00pm
Location: Slopeside Cafe
Cost: $5 per child
Registration: Pre-registration is required and can be booked at Guest Services.  Limited space available.
Parents can also purchase a Griz Kidz Holiday Pack – Choose any 5 Griz Kidz Holiday Activities for $20 per child!
Griz Kidz Holiday Activities:
Dec. 22 – Crafty Kidz
Dec. 26 – Riglet Snowboard Demo
Dec. 27 – Activity Night – Gingerbread Houses
Dec. 29 – Mini Carnival
Jan. 1 – Crafty Kidz
Jan. 2 – Costume Party
Jan. 3 – Activity Night – Cooking Decorating
Jan. 5 – Activity Night – Games Night