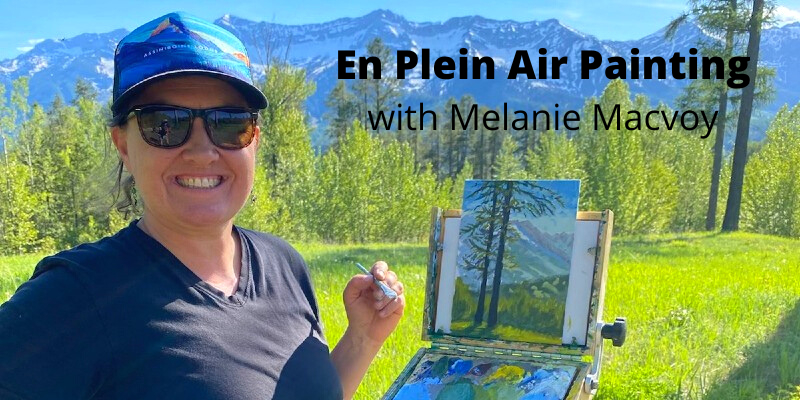 Fernie Arts Station -En Plein Air Painting with Melanie Macvoy 2022
The resort welcomes the Fernie Art Station as the host of one of their En Plein Air sessions up at the resort.
EVENT DETAILS
En Plein Air Painting at Fernie Alpine Resort with Melanie MacVoy
An introduction to Plein Air Painting with artist demos and one on one instruction. We will explore what to look for before beginning a painting, choosing a composition, laying out the composition, blocking it in and recording the most important details of the scene. Plein Air painting is about expressing your impression in a simplified manner in a short amount of time. (because the lighting is constantly changing). It is about engaging with your subject on a more intimate level by learning from painting from real life and immersing yourself in the landscape.
Be prepared for a light beginner hike!
$85 for the full day includes a lift ticket up the Elk Chair.
Day Plan
9:00 am – Meet at Fernie Alpine resort Base area (outside the ticket office)
9:00 am- Set up at the Base for:
– Artist Demo
– Participants work on their own art
– One on One instruction with each participant
10:15 am- Take the chairlift to the Bears Den. Set up at the Bears Den/Wedding platform for a painting session.
12:30 pm – Break for lunch – Pack your own.  Snacks and drinks available for purchase up at the resort before you head onto the chairlift.
1.30 pm – Hike the Boom trail to set up for another demo and painting session at the top of haul back.
4:00pm – 4.30pm – Hike or take the chairlift back down the mountain.
Suggested Materials List- remember to keep it easy to carry for hiking as well as for headed up the lift.
Art Supplies
You may use whichever medium you feel comfortable painting with eg. acrylics, oils, watercolour etc. – I will be painting with acrylics or gouache
Small canvas panels or canvases (6×8, 8×10), or paper taped on a small board
A pochade box or portable easel (something that folds up and can be put in or attached to a daypack)
Palette (wood, plastic)
Paints – At minimum bring a primary of each colour plus white.
I bring a warm and cool primary of each colour plus white (paint is heavy, don't bring too many colours)
I have a small 6" x 8", air tight fishing tackle box with the following colours already squeezed out into it:
▪ WARM: cad. yellow medium, cad. red, ultramarine blue plus burnt sienna, burnt umber
▪ COOL: lemon yellow light, alizarin crimson, cobalt blue, pthalo green, dioxine purple
Brushes – again you don't need too many but an assortment from large to small
o I have a 1" flat, 1⁄2" angled and a small pointed brush for details
Water and water container
o I use a collapsible dog bowl, water bottle and empty water bottle to dispose of contaminated water (or thinner)
Rags or paper towels
Small sketch pad and pencil, pen or marker
Small Camera oSmartphone
Plein air umbrella (optional)
** I have 2 extra portable easels and 2 extra pochade boxes. If you would like to borrow something, please ask before you go out and buy something. Send me an email with any other questions about materials, I'd be happy to help! [email protected]
Personal Items
Raincoat
Bug spray (optional)
Bear spray (optional)
Good walking/hiking shoes
Water and snack
Backpack
Hat
Sunglasses
Hiking pole (optional)
Packed Lunch & snacks
Why Paint Outdoors, En Plein Air? By Melanie MacVoyIt's challenging!
It's exciting, in the moment, no plan, impulsive, in the elements
Loosen up, limited time due to changing conditions, need to be quick, decisive
Fresh air, connect with nature, healthy, hiking, walking, get outside
Teaches me how to be a better painter by honing my observational skills, learn how to see colours and value through real time comparisons
Memorable, gives me studies for larger paintings based on my personal experience of place
Work small (eg. 6×8) so that you have time to get in the story, you are forced to simplify, have more potential to record all the details before they change eg. Lighting, clouds
En Plein Air Steps
Ask yourself, What is the story here? Ephemeral lighting? Flow of the landscape, geographical, tree branches? Movement of clouds or water? Exciting Colours eg, fall colours, sunset? Cool Reflections or shadows?
How am I going to tell it?
Scale of objects? Brushstrokes for movement? Composition planning. How much of the story do you need? Zoom in on the essentials, focus on a small portion and take photos for reference of the larger scene
Using my viewfinder, I lay out the large shapes using values and directional brushstrokes and a neutral colour
Add in the darks and leave highlights, pay attention to the colour of the shadows
Capture the colours, what colours do you actually see with your naked eye?
Aerial perspective – things that are farther away are less detailed, less vibrant
Edges – sharpen and loosen edges as needed
Step back constantly, squint, are you capturing the scene?
Walk away when it no longer feels fresh or you are overworking details
*Most importantly have fun, enjoy where you are, take in your surroundings, the sights, sounds, smells, loosen up, no stress, be in the moment…
Melanie MacVoy, Canadian Landscape Painter, Fernie, BC www.melaniemacvoy.com @melaniemacvoy
REGISTRATION IS TAKING PLACE THROUGH THE FERNIE ARTS STATION.
PLEASE CONTACT THE FERNIE ARTS STATION FOR ANY QUESTIONS ON THE EVENT (The resort is just the host site)