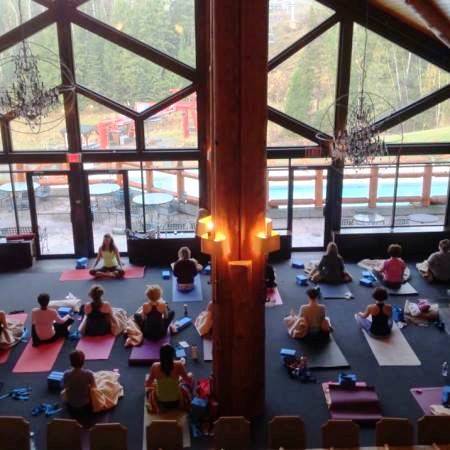 Fall Yoga Retreat
Recharge your mind, body & soul in the serenity of the Canadian Rocky Mountains and join us at Lizard Creek Lodge for the Yoga in the Mountains Fall Retreat.  Join Yogi Gordana Gigovic (https://www.facebook.com/yogabygoga/) as she leads you through this invigorating all inclusive weekend.
Included in the Weekend:
Yoga Lessons by Yogi Gordana Gigovic
Nature Walk
All meals included
Accommodation in condo style suite's at Lizard Creek Lodge
Cost:
**Book early and save – Early Bird Pricing is in effect until August 15th!**
– Double Occupancy Package For Two (2 people/shared room) – $809 plus tax (Early Bird Rate) or $899 plus tax (After August 15th)
– Single Occupany Package For One (1 person/own room) – $566 plus tax (Early Bird Rate) or $629 plus tax (After August 15th)
Book Online by clicking the "Book Now" button below:



Schedule:
Friday
Arrive, check in,
5:30 – 5:45 pm – Introduce yourself
5:45 – 6:45 pm Yin/Yang Yoga
7:00-8:00 pm Dinner
After 8:00 pm – Free time
Saturday
7:30-7:45 am – Meditation – Learn how to prime yourself
7:45 -8:45 am Morning Hatha Yoga Class – Hip Opening practice (breathing exercise (pranayama) infused with essential oils)
9:00 – 10:00 am Breakfast
10:30-1:00 pm Nature walk (optional)-hiking boots, warm clothes and bear spray highly recommended. Some of the trails include 250-300 m elevation gain.
1:00 – 2:00 pm – Lunch
2:00 – 4:30 pm – Free time (spa, reading, browsing town)
4:30 – 4:45pm – Meditation
4:45 – 6:00pm – Restorative/Yin Yoga Class (self-massage with essential oils, learning how to use a massage ball, breathing exercise pranayama)
6:15-8:00 pm – Dinner
8:00 – 9:30 pm – Free time, hot tub… (optional)
Sunday
7:45-8:00 am – Meditation (priming yourself)
8:00-9:00 am – Morning Vinyasa practice (breathing exercise (pranayama) infused with essential oils)
9:15-9:45 am- Wrapping up retreat/group photos/sharing experience
9:45-11:00 am – Breakfast and check out
Instructor Bio:
My passion for yoga started years ago when I decided to try yoga class at the local gym. I experienced the power of breath during my first class and the benefit of Savasana. Immediately, I fell in love with yoga. Since then my passion for yoga has grown immensely, the connection between the body and mind positively influenced my everyday lifestyle. I got certified in 2011 attending training through Yoga Passage studio (250 RYT). Training opened my eyes about how breath heats your body and helps you open the tighter areas of your body. In addition to breath, I learned how to move my body in a way that is healing, yet energizing. It helped me to be more observant about what is going on in my body and energy that we all share on daily basis. Yoga helped me a great deal on a personal level; I became better mother and wife, more focused, calm, attentive and content with myself. In addition to yoga, I'm avid hiker and passionate cook.
"Yoga is the practice of tolerating consequences of being yourself" – Bhagavad Gita
Gordana