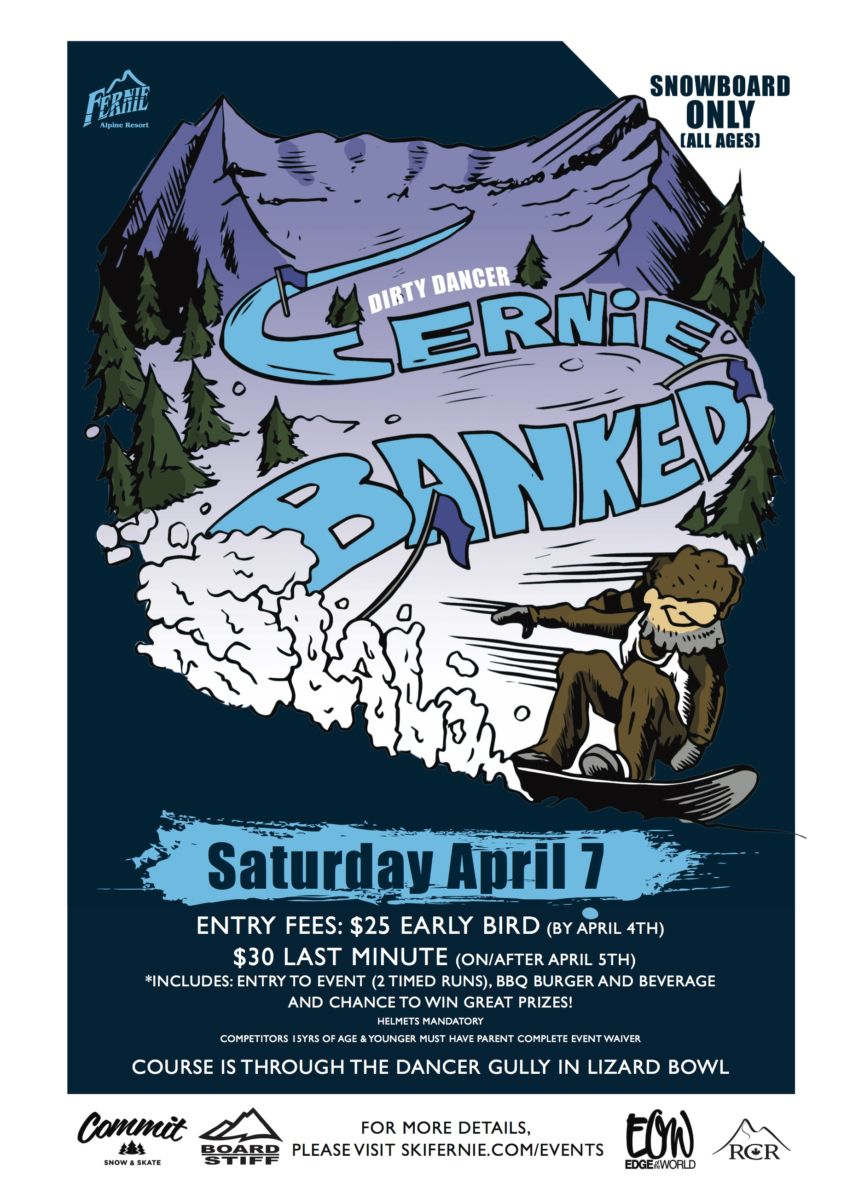 Dirty Dancer Banked Slalom
Snowboarders, this one's for you! Get back to your snowboarding roots with the Dirty Dancer Banked Slalom, a throwback to the '80s where boarders were the outlaws of the wild west, banned from most ski resorts and forced to fight for the right to shred! Well, times have changed and we want you to celebrate by entering this awesome event for all ages.
Only $25 to enter before April 4th ($30 after). Entry fee includes two timed runs, a BBQ burger, beverage and chance to win killer prizes from your fave local board shops.  Spots are limited, register today!
NOTE: THE EVENT IS NOW SOLD OUT!  and we are no longer taking names for the wait list.  
The course will run through the Dancer Gully in Lizard Bowl and is open to all ages (we recommend an intermediate riding level).
Categories:
Open Grom- Under 14 (Men and Women)
Open Youth – 15-18 (Men and Women)
Open Adult – 19+ (Men and Women)
Pro – Men and Women
**But FAR, how do I know what category to enter?! Well, open category is for intermediate riders looking to have some fun and give banked slalom a try! Pro is for those advanced riders who reallllly want to rip and challenge themselves. We trust that you'll use an honour system when registering to put yourself in the right category to give everyone a chance to have fun and win some prizes. Don't worry, if you don't place, we'll have tons of draw prizes from our awesome sponsors: Boardstiff, Commit Snow & Skate and Edge Of The World
Please also note that a minimum of four riders is required for every category and if one category is overloaded, we'll split the category appropriately. Helmets are required.
Tentative Schedule:
**Note schedule past 9:30am may be subject to minor changes.  Schedule for the day will be confirmed at the 9:30am competitors meeting**
8:00am – 9:00am: Check In & Bib Pickup @ Daylodge 
**IMPORTANT** All competitors MUST check in to get their bib at the day lodge BEFORE 9am.  We have a long wait list of people wanting to get into the event so anyone not checked in by 9am will forfeit their spot and it will be opened up to the first name on the wait list.
9:30am: Mandatory Competitors Meeting @ Bear's Den
All competitors must attend as we will go over course format, conditions and any special instructions for the day.
9:45am – 11:00am: Course Open for Inspection
Course open for an inspection run
11:15am: Timed Runs Start
We would like to keep the event running in start order by category as much as possible.  Please refer to the posted start list and pay attention to announcements at the Bear's Den so you can be at the start when your category is up.  Each competitor will get 2 timed runs. 
12:00pm – 4:00pm: DJ Aurora, Beverage Gardens and BBQ* @ Bear's Den
DJ Aurora playing & Beverage gardens from 12pm – 4pm
*BBQ Open from 12pm – 3pm
4:00pm: Awards Ceremony @ Bear's Den
We are aiming to have the awards at 4pm at the Bear's Den.  If the event runs long due to course holds we may have to move awards to 5pm in the base area plaza.  If there is a delay and we have to move awards we will make several announcements at the Bear's Den.
Course Map:
Below is a rough sketch of the course map to give you an idea of what to expect!  Click on the below