What's New for Summer 2019!
Each season at Fernie Alpine Resort we strive to make improvements and upgrades to our existing services to ensure you have the best vacation and recreational experience possible!
Fernie Alpine Resort is excited for another great summer season!  Biking, hiking, aerial park, outdoor programs and events - our offerings will provide the ultimate in summer fun for all ages.  Opening Day for summer is set for Saturday, June 22nd !
Summer season passes are on sale now! We are excited to offer Early Bird Summer Seasons Passes at special rates for this season only - $229 (adult biking pass) and $29.95 (adult hiking pass).
The Elk Quad Chairlift will be in operation all summer long – daily from June 22nd until September 2nd.  We look forward to focusing our attentions on the trails and activities accessed via the Elk Chair, and will be working to provide a Legendary Experience 7 days a week.
The Elk Chair currently provides access to 26 bike trails and 8 hiking trails, with another 3 multi-use trails available directly from the resort base area.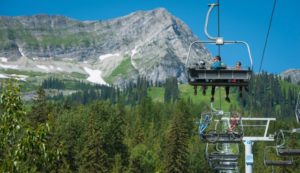 Timber Chair "Extreme Makeover"
This summer, the Timber chair will be receiving an "Extreme Makeover", with major planned maintenance projects going on over the spring, summer and fall.  For this reason the Timber Chair will not be available for summer operation during the 2019 summer season.
This scheduled maintenance for the Timber Chair includes:
replacement of the drive and control systems
new communication lines from top to bottom (that's 2.5 km of wire!)
a full rebuild of the 24,000lb gearbox
installation of an additional new safety/control circuit (to minimize those unplanned lift stoppages)
These large projects involve bringing specialist crews from Leitner, the lift manufacturer, to Fernie.
We will be providing regular updates on the progress of this massive project and look forward to welcoming the Timber Chair back with her "face lift" for our 2019.20 winter operation and 2020 summer operation.