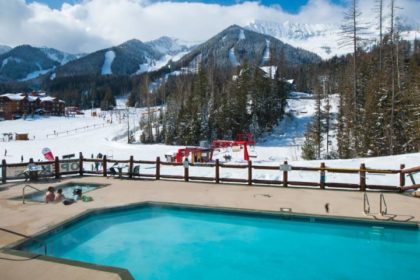 Confession – before my wife and I had kids I would walk across a few football fields of parking lot to get to the lifts if it meant my efforts would be rewarded with fresh tracks. However now that I have a family, the expression "ski in-ski out" has the same dreamy connotations for me as the words "free beer." Except unlike the latter, ski in- ski out actually exists. It took me just a couple of trips across the ski resort parking lot, with multiple pairs of skis stacked in my arms like firewood, while coaxing kids with promises of hot chocolate before even completing a single run, to truly realize that the way accommodation is situated in relation to the lifts can make a huge difference to the quality of a holiday at the ski hill.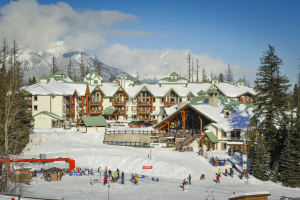 That's why, Fernie Alpine Resort got it right when they designed and developed the chalet style Lizard Creek Lodge, one of the first luxury boutique ski-ski out lodges in Fernie when it first opened in 2000.  The Lizard is convenience defined. If you want, you could soak in the lodge's outdoor hot tub and almost carry on a conversation with a friend about to board the Elk Chair  a few ski lengths away. That's how close and convenient Lizard Creek Lodge is to the action the slope. The lodge's legendary great room is undergoing a transformation for this season, that will retain the space's warm mountain aesthetic but with the added touch of an ice lounge and sushi bar.
Ski in – ski out also defines the aptly named Slopeside Inn near the resort plaza, and the Thunder Ridge Chalets, beautifully arranged in wooded settings next to the Elk Chair. And if you want an extended lunch or mid-day beverage, slide to a stop at the base area's Mountain Plaza, warm up in Kelsey's On The Mountain or polish the tables with the sleeves of ski sweater at the hallowed Griz Bar. Afterward, click into your bindings and slide down to the lift and hop on, or to the door of your lodge. It may seem like a small detail, but it's one that counts. At Fernie you want to leave it all on the slopes, whether it's exploring powder lines and steeps in the resort's  five Lizard Range alpine bowls, or lapping top to bottoms with the kids on the Elk Chair – after all who wants to schlep across parking lots, with tired kids in tow, when you can ski in and ski out. Words that are magic to any family's ears.
Words by Andrew Findlay