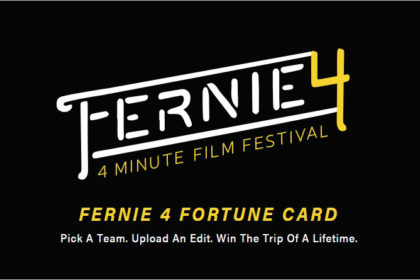 For Immediate Release: February 9th, 2016

BOMBSNOW MAGAZINE COMING TO FERNIE FOR NEW FERNIE 4 FILM FEST EVENT
Fernie, BC – 4 Days. 4 Minutes. 4 Grand.  Bomb Snow Magazine, Teton Gravity Research and Fernie Alpine Resort are excited to announce the FERNIE 4, a Four-Minute Film Festival.
This April, ten sponsored teams and one fortunate wild-card team (hopefully that's you) will take over Fernie Alpine Resort. The mission is to create the best four-minute ski or snowboard film, with a team of four riders, filmed and edited on-site during four-days of competition. At the end of the four-day event, all 11 teams will submit their four-minute edits to be shown in their entirety and the competitors will decide who's going to take home a $4,000 cash prize.
You have until February 21st to submit a 4-minute film for your change to win the Fernie Fortune wild-card spot.  Each team must have four people and edits must be no longer than 4 minutes.  For more details and to enter your video visit the Teton Gravity Research website.
Fernie Alpine Resort Facebook Page • Twitter • Instagram 
-30- 
For more information, please contact:
Matt Mosteller
Senior VP Marketing & Resort Experience,  Resorts of the Canadian Rockies
[email protected]
Twitter – @PowderMatt
Powder Matt's Blog
Powder Matt on Pinterest
Powder Matt on Google +