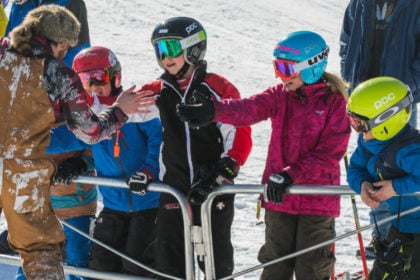 Powder Highway – The unofficial networks website has been a trusted source for ski and snowboard resort information since it launched in 2010, recently releasing its annual list of the Top 10 Canadian Ski Resorts.  Receiving a spot on the list are the RCR resorts – Kicking Horse Mountain Resort, Fernie Alpine Resort and Mont St Anne coming in respectively at spots 2, 7 and 10.
Read the full list on unofficialnetworks.com.
KICKING HORSE MOUNTAIN RESORT
At Kicking Horse, we're proud to garner rave reviews for our incredible verticals, deep 'champagne' powder and a truly spectacular and unique terrain mix. With ridiculously long downhill runs, and the option to heli-ski, Kicking Horse is a place where the stories are almost too tall to believe.  The fourth highest vertical drop in North America, the raw ruggedness of our mountain, our amazing always-fresh powder, and the sheer beauty of our pristine scenery set Kicking Horse apart as one of the most exceptional ski resorts in British Columbia, hands down.  www.kickinghorseresort.com
FERNIE ALPINE RESORT
Deep in the snow, high up on the Powder Highway, lies Fernie Alpine Resort. With 37 feet of perfect powder, stunning scenery, 5 huge alpine bowls and endless downhill thigh burning runs.  Don't miss an opportunity to fall in love with Fernie, start in the large Learning Area at the base of the mountain serviced by its own t-bar lift, once comfortable you have a huge resort full of secret powder pockets and hidden mountain spots to keep you occupied throughout your skiing/riding career! Find out why Fernie has been named as a Top 25 Ski Town in the World, Best Winter Trip and Coolest Town in North America in recent years. www.skifernie.com
MONT. ST. ANNE
Only 30 minutes from the city, this extraordinary mountain is renowned for impeccable snow conditions. The skiable terrain includes 71 trails and 4 snow parks spread across 3 sides of the mountain. After sundown, 19 trails remain floodlit and become the highest vertical drop for night skiing in the country. www.mont-sainte-anne.com
WINTER EARLY BOOKING
Ensure your vacation is relaxing from, beginning to end.  Start by booking with our knowledgeable agents and trust in them to find the best resort and hotel property for your winter experience.  Call 1-800-258-7669 to book over the phone, chat online with an agent or view all packages at the RCR Vacations website.  Book before November 30th to save up to 35%!
About Resorts of the Canadian Rockies Inc.
Proudly Canadian, Resorts of the Canadian Rockies Inc. (RCR) is the largest private ski resort owner/operator in North America, owning six ski resorts across Canada, including Fernie Alpine Resort, Kicking Horse Mountain Resort and Kimberley Alpine Resort in British Columbia and Nakiska Ski Area in Alberta.  RCR also owns and manages a number of hotels and golf courses, including Trickle Creek in Kimberley, and Wintergreen Golf and Country Club in Bragg Creek.  RCR aims to provide each and every guest The Ultimate Experience.
-30-
For more information, please contact:
Matt Mosteller
Senior VP Marketing & Resort Experience, Resorts of the Canadian Rockies
(403) 209-3323 • [email protected]