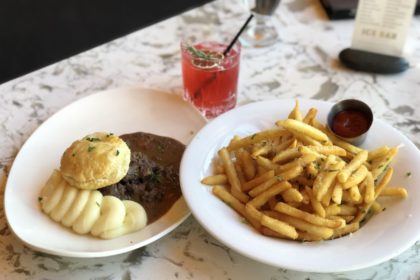 After playing hard on the slopes, there is no better way to top off a day of greatness than enjoying some delicious food. Here at Fernie Alpine Resort, we have something to satisfy every craving thanks to our excellent restaurant selection. So, hang onto your shirts and loosen off those belts, we've got a mouth-watering food blog coming your way.
The first stop on our food adventure was the ever famous Griz Bar. Legends of old spin a tale of naked bar slides, but that has yet to be confirmed. The Griz Bar is the ultimate apres-ski destination and has everything that you would expect. Classic bar food, awesome music, and an upbeat atmosphere where the thrills of the day can be retold in all their glory. Crowd favourites at the Griz Bar feature a group-friendly plate of loaded nachos, as well as a wide selection of juicy burgers. After much deliberation, I decided on the BBQ Chicken Cordon Gouda Burger. Let me tell you something; it sure was gouda… hehe, see what I did there? It's everything you'd expect from a spin on the classic cordon sandwich, with loads of dynamite flavours especially when it comes to the pesto mayonnaise. Cajun Spiced Potato Chippers satisfied my salty craving along with the addition of a slightly spicy but totally addictive sauce. After 2:30, the Griz Bar offers an array of deep-fried basket options, and much more if you're looking for a ride on the decadent side. Overall, if you're looking for the party after riding on the slopes, then head over to the Griz Bar.
Our next stop was a hop, skip, and a jump across the village to Legends Mountain Eatery. Legends is the kind of place that brings out my indecisiveness. Why? Because there are loads of items on their menu, which means there is something for everyone. Legends has a great family atmosphere, cheery servers, and makes you feel at home. The great thing about Legends is the variety of food and beverages offered. Speaking of beverages, I kicked off my meal the right way by having dessert first. I felt like a little kid at Christmas receiving my hot chocolate with a snowman made of marshmallows floating on top. A crowd pleaser on their menu is definitely the brisket, and what better way to enjoy it than on top of poutine and mac and cheese!
If you're having a cheat day, you can't go wrong with the Brisket Mushroom and Onion Poutine or the Brisket Mac and Cheese. The brisket is soft, tender, and rich in flavour, then add the cheese on top, and it's a match made in heaven. For a great après ski appetizer, give their Crispy Chicken Wings a try. I couldn't decide what sauce to get, so I split the difference between Honey Garlic and Smoky Brisket BBQ, both of which satisfied my craving for sweet and tangy. Legends also has an array of vegan and vegetarian-friendly options to be enjoyed. So, if you're looking for a legendary meal (the puns just keep on coming), stop on by and pull up a chair in Legends.
Last but certainly not least, we visited the ever-renowned Lizard Creek Lodge for a dining experience with Cirque Restaurant. If you're picturing modern crystal chandeliers, cozy fireplaces, classy cocktails, and majestic mountain views, then you've obviously been to Cirque! Cirque has the feel of a chic mountain chalet, plus all the charm you would expect. Sit down in Cirque, and you'll automatically feel like royalty. Cocktails are their specialty, and they boast quite a large selection including the crowd favourite, English Rose. The English Rose cocktail is irresistibly tangy and refreshing, and for all you Instagrammers out there, it is just as visually appealing as it is tasty. For a delicious après ski snack, Truffle Fries are the way to go at Cirque. Seasoned with truffle oil, parmesan cheese and chives,
these fries are well suited to share or to enjoy while flying solo. Another fan favourite is the hearty Venison Pie. This dish features rich and tender meat, a crunchy puff pastry, and creamy garlic mashed potatoes. Happy Hour happens every day from 3pm to 5pm, where you can enjoy feature cocktails, draft, and pitchers at discounted prices. So why not grab a cocktail, sit by a cozy fire, and reminisce a beautiful day on the hill at Cirque.
Whether you're celebrating at the Griz Bar, making yourself at home in Legends, or treating yourself at Cirque, Fernie Alpine Resort is the place to be for any food desire. You've worked hard and you've played even harder, so join us for dining experiences you'll never forget.
Cheers!